Criminal charges sought for protesters who toppled Confederate statue in North Carolina
When protesters, angry over the deadly incidents in Virginia this weekend, decided to take down a nearly century-old statue of a Confederate soldier in North Carolina on Monday, law enforcement stood back and watched.
At no time did officers with the Durham Police Department or deputies with the Durham County Sheriff's Office intervene as activists brought a ladder up to the statue and used a rope to pull it down, according to multiple media reports.
No one was arrested Monday, however, a day later, Durham County Sheriff Mike Andrews announced investigators were working to identify the protesters and planned to bring criminal charges against them.
"We decided that restraint and public safety would be our priority," Andrews said in a statement posted on his agency's website. "As the Sheriff, I am not blind to the offensive conduct of some demonstrators nor will I ignore their criminal conduct."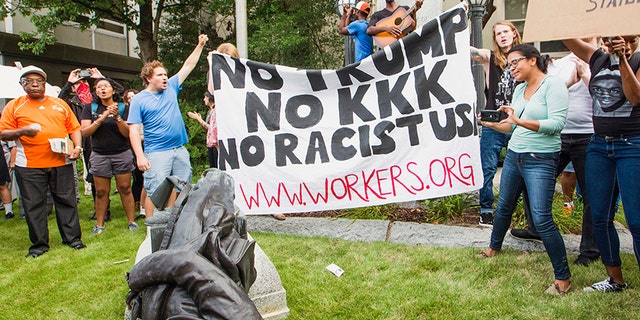 He continued: "My deputies showed great restraint and respect for the constitutional rights of the group expressing their anger and disgust for recent events in our country. Racism and incivility have no place in our country or Durham."
Calls seeking additional comment were not immediately returned Tuesday.
The Confederate Soldiers Monument in Durham was dedicated in 1924 and shows a soldier holding a rifle. After it came down, a diverse crowd of dozens cheered, and some even began kicking the crumpled bronze monument.
Some took pictures standing or sitting on the toppled soldier, in front of a pedestal inscribed with the words: "In Memory of the Boys Who Wore The Gray."
The Durham demonstration followed a white nationalist rally held in Charlottesville, Virginia, during the weekend. One woman was killed Saturday after a man, who police believe was one of the white nationalists, drove his car into a group of peaceful counter-protesters.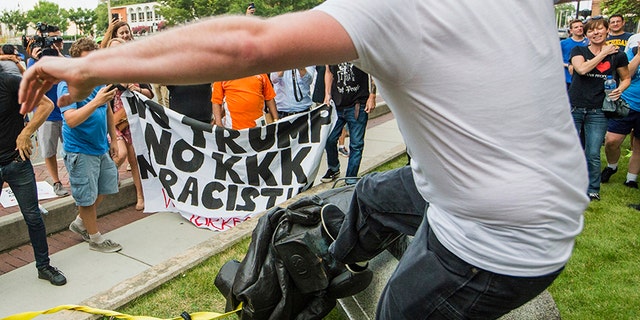 Although the violence in Virginia has prompted fresh talk by government officials about bringing down symbols of the Confederacy around the South, North Carolina has a law protecting the statues. The 2015 law prevents removing such monuments on public property without permission from state officials.
In response to the statue in Durham being torn down, Democratic North Carolina Gov. Roy Cooper tweeted: "The racism and deadly violence in Charlottesville is unacceptable but there is a better way to remove these monuments."
After the statue fell, several dozen protesters congregated on the street in front of the old courthouse as police cruisers blocked off the street, and officers looked on — some filming the events.
The Durham Police Department said in a statement Monday that officers monitored the protests that occurred throughout the city to "ensure the protests were conducted in a safe manner and that no infractions occurred within city jurisdiction."
In the statement, police said because the Confederate monument was located on county property, no arrests were made by DPD officers, as the county sheriff's office has jurisdiction over all county buildings and landmarks.
It's unclear if the statue will be repaired and replaced. Calls to county officials were not immediately returned.
In his statement Tuesday, Andrews said he is asking city and county officials to establish guidelines and safe spaces for protesters to "prevent demonstrations from becoming disruptive and as we witnessed in Charlottesville, dangerous."
"My Agency has been the focus of demonstrations for more than a year, most of them peaceful," Andrews continued. "However, now may be the time for Durham to consider what is the best way to respond to continued protests while respecting every resident's right to voice their opinion.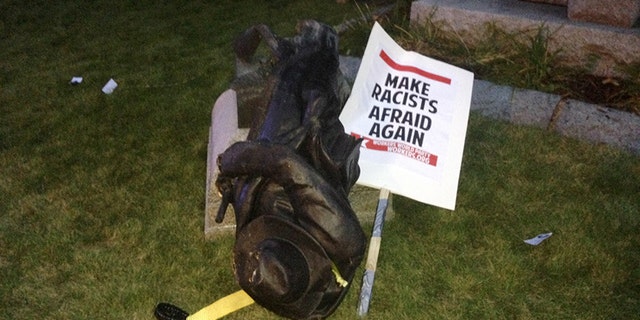 Laura Ingraham, founder and editor-in-chief of Lifezette, told "Fox and Friends" on Tuesday that protesters who tear down Confederate monuments are eradicating American history.
"When you see bands of criminals, which is what they were yesterday, ripping down public property and being celebrated in the American media for doing so, we have a real problem on our hands," she said. "This is not about racial healing or racial unity when you see property being destroyed. That's not what it's about. It's about the eradication of history and acknowledgment that we had really difficult, horrible moments in our country's history that we were able to overcome."
The Associated Press contributed to this report.