Charlottesville violence fuels new push to remove Confederate statues, symbols
Simmering efforts to remove Confederate statues in cities across the country have been reignited in the wake of last weekend's deadly clashes at a white supremacist rally in Charlottesville.
State and local lawmakers are pointing to that rally – during which one counter-protester was killed in a car attack, 19 were injured and two state police officers died in a chopper crash – to push anew for the removal or even the destruction of Confederate-era symbols.
In Kentucky, Lexington Mayor Jim Gray said Saturday he would start the process to remove two Confederate monuments from the city's courthouse.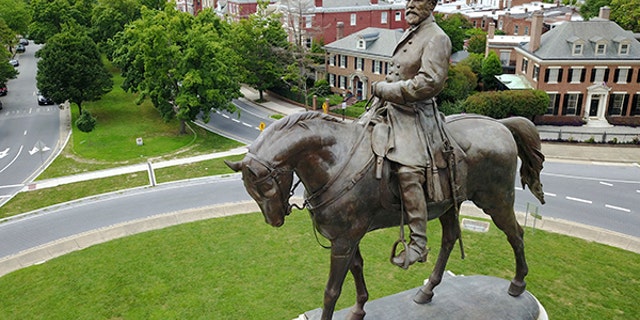 "We have thoroughly examined this issue, and heard from many of our citizens," Gray said in a statement. "The tragic events in Charlottesville today have accelerated the announcement I intended to make next week."
Gray said he will ask the Lexington-Fayette County Urban County Council to begin the removal process by formally asking a state military commission for permission to take down statues of John Hunt Morgan (a Confederate general) and John C. Breckinridge (Confederate secretary of war and former U.S. vice president).
While some champion these calls, an expanded push to remove the symbols could also lead to more clashes.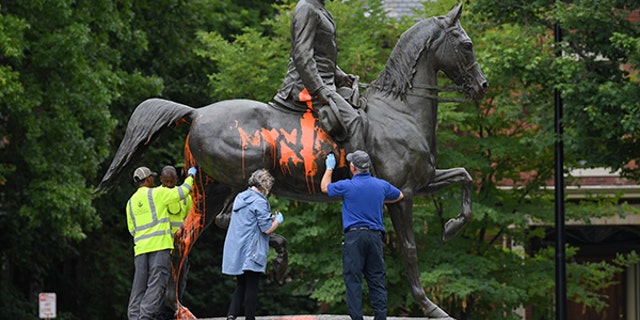 Two white nationalists seen outside the Charlottesville courthouse Monday morning told Fox News they would be heading to Lexington on Tuesday to make their presence known.
Saturday's rally-turned-riot in Charlottesville was related to the removal of a 1924 statue of Confederate Gen. Robert E. Lee and the renaming of a park.
Though similar efforts in nearby Alexandria and Leesburg have stalled, momentum has picked up elsewhere to topple statues, rename streets and take down flags associated with the Confederacy.
Since 2015, at least 60 public Confederate symbols have been removed, according to the Southern Poverty Law Center.
DRIVE TO REMOVE CONFEDERATE SYMBOLS SPURS BACKLASH
In Baltimore City, Councilman Brandon Scott called for all four of the city's Confederate-era monuments to be taken down. Scott's resolution demands "the immediate destruction of all Confederate Monuments in Baltimore."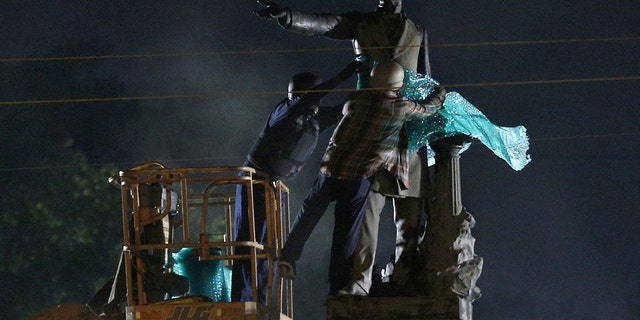 "Following the acts of domestic terrorism carried out by white supremacist terrorist groups in Charlottesville Virginia this past weekend cities must act decisively and immediately by removing these monuments," Scott wrote.
Baltimore Mayor Catherine Pugh said she's already contacted contractors about removing the statues and the state's governor, Larry Hogan, stopped issuing license plates with the image of the Confederate battle flag. Baltimore County officials also want to change the name of Robert E. Lee Park to Lake Roland Park.
Maryland House Speaker Michael E. Busch also reportedly is calling to take down an Annapolis statue of the author of the Dred Scott decision upholding slavery, ex-Supreme Court Justice Roger Taney.
In Jacksonville, Fla., activists are calling on city council members to pick up the pace and remove Confederate monuments. The council president reportedly is preparing such a plan.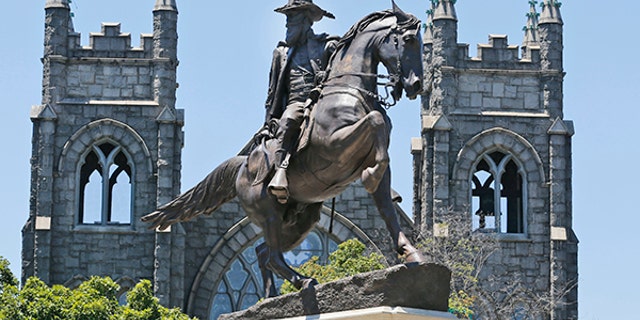 The symbols have been the topic of heated debate ever since June 17, 2015, when 21-year-old Dylann Roof opened fire in a historically black church in Charleston, S.C. – murdering nine people who were there for a bible study. Roof confessed he committed the crime in hopes of igniting a race war.
Video and pictures surfaced of Roof spitting on and burning the American flag while posing proudly for pictures and waving the Confederate flag.
At the time, then-South Carolina Gov. Nikki Haley ordered the removal of the Confederate flag from statehouse grounds.
On Saturday, Haley, now the U.S. ambassador to the United Nations, tweeted, "I know all to (sic) well the pain hate can cause. The American Spirit that binds us has no place for actions like this."
Residents in West Virginia gathered Sunday at a statue of Confederate Gen. Thomas "Stonewall" Jackson on the grounds of the state capital in Charleston.
'I want people to know that hillbillies do not stand for this type of hate.'
"I want people to know that hillbillies do not stand for this type of hate," Dustin White, of Charleston, told WSAZ 3.
But removing statues and other symbols has stirred deep controversy in many cities, with supporters saying the symbols stand for southern heritage and history that should not be destroyed.
In April, New Orleans Mayor Mitch Landrieu ordered the removal of multiple Confederate statues and faced a stiff backlash. He was forced to have heavy police presence in place when the nighttime removals began.
Despite threats, Landrieu did not reverse course.
"These statues are not just stone and metal," he said after the last Confederate statue had been taken down. "They are not just innocent remembrances of a benign history. These monuments purposefully celebrate a fictional, sanitized Confederacy; ignoring the death, ignoring the enslavement and the terror that it actually stood for."
Fox News' Jason Donner contributed to this report.