Court rules school can ban American flag shirts to avoid racial strife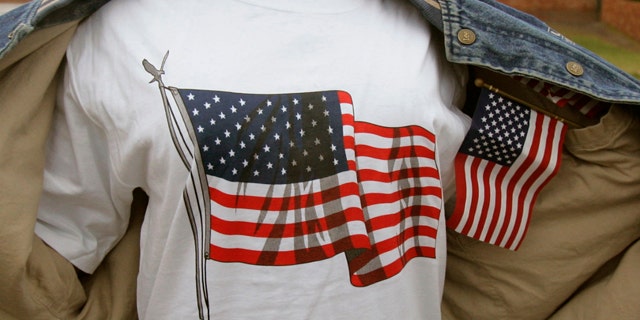 A federal court ruled Thursday that a northern California high school did not violate the constitutional rights of its students when school officials made them turn their American flag T-shirts inside out on Cinco de Mayo or be sent home due to fears of racial violence.
The three-judge panel unanimously decided the officials' need to protect the safety of their students outweighed the students' freedom of expression rights.
Administrators at Live Oak High School, in the San Jose suburb of Morgan Hill, feared the American-flag shirts would enflame Latino students celebrating the Mexican holiday, and ordered the students to either turn the shirts inside out or go home for the day.
The school had a history of problems between white and Latino students on that day, and also had a documented history of violence between gang members and between racial groups. The court said these past problems gave school officials sufficient and justifiable reasons for their actions and that schools have wide latitude in curbing certain civil rights to ensure campus safety.
"Our role is not to second-guess the decision to have a Cinco de Mayo celebration or the precautions put in place to avoid violence," Judge M. Margaret McKeown wrote for the panel. The past events "made it reasonable for school officials to proceed as though the threat of a potentially violent disturbance was real," she wrote.
The San Jose Mercury News reports the parents of the students represented in the lawsuit claim their children's First Amendment rights were violated. The Ann Arbor, Mich.-based American Freedom Law Center, a politically conservative legal aid foundation, and other similar organizations took up the students' case and sued the high school and the school district.
"This is the United States of America," the mother of one of the students Kendall Jones told the San Jose Mercury News. "The idea that it's offensive to wear patriotic clothing ... regardless of what day it is, is unconscionable to me."
The parents have said in previous interviews with several publications that their children were only trying to be patriotic, not start a fight with Latino students.
William Becker, one of the lawyers representing the students, said he plans to ask a special 11-judge panel of the appeals court to rehear the case. Becker said he and the parents of the children are prepared to take the fight all the way to the Supreme Court.
The Associated Press contributed to this report