Cop accused of tackling James Blake to sue NYPD, tennis star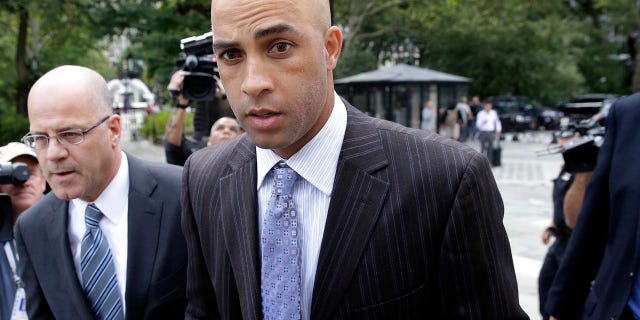 NEWYou can now listen to Fox News articles!
The cop accused of tackling James Blake like "Rambo" is suing the former tennis star and the NYPD — defiantly telling The Post that he would do the takedown the same way again.
In his first public comments since he forced Blake to the ground outside a Manhattan hotel Sept. 9, 2015, embattled Officer James Frascatore said, "People need to realize that, with the information I had at the time and the circumstances that presented themselves, it was the right call.
"I have a family to go home to. I'm on a crowded sidewalk, with a possibly armed suspect in the middle of 42nd Street,'' the cop said. "You have to take control of the situation. I can't just be pulling out my gun."
Frascatore's suit will be filed this week in Manhattan federal court, said his lawyer, Peter Brill.
The suit names as defendants Blake; the city; the NYPD; Civilian Complaint Review Board Director Tracy Catapano-Fox; and HarperCollins Publishers, which released the former tennis player's book. The parties cast Frascatore as a "racist goon'' — he is white, and Blake is black — and threw him under the bus because of the tennis player's sports celebrity and pressure from the city's "elite," the suit says.
Frascatore, 40, is on modified duty. He said his life since the takedown has been a living hell.
He said his supervisors on the stakeout — which was meant to capture a credit-card crook — mistook the former No. 4 tennis player in the world for the scammer as Blake stood outside the Grand Hyatt Hotel in Midtown. Blake closely resembled photos of the suspect, who reportedly was armed, the suit says.
Frascatore rushed Blake and brought him to the ground. When he realized his mistake, he took the handcuffs off Blake and apologized, the cop said.
But Blake and CCRB prosecutors blame Frascatore for the bad bust.
Frascatore tackled Blake "like an NFL linebacker'' and Hollywood tough guy Rambo, CCRB prosecutor Jonathan Fogel said at the cop's recent administrative trial. A decision is pending.