Colorado man accused of stealing tractor led cops on chase before choking and biting police dog
A man has been accused of stealing multiple cars, including a tractor, before leading Denver police on a slow-speed chase through the city, then biting and choking a police dog.
Denver District Attorney Beth McCann on Thursday filed 23 charges Thomas Busch, 37, connected to the July 20 incident, including 10 felony-level charges. The charges include three counts of aggravated motor vehicle theft, three counts of failure to report an accident and one count of cruelty to a certified police working dog.
FORMER MISSOURI SHERIFF, DEPUTY HAD AFFAIR, NOW INDICTED ON MULTIPLE FELONIES
The series of events began when Busch allegedly stole a car but dumped the vehicle about 20 minutes later, FOX 31 Denver reported.
The suspect then stole a tow truck before getting into a hit-and-run crash with another car, the Denver Police Department said. Busch allegedly fled on foot before finding another vehicle: a tractor. He had wandered into the Denver Water Facility and took off in the tractor valued around $70,000, police said.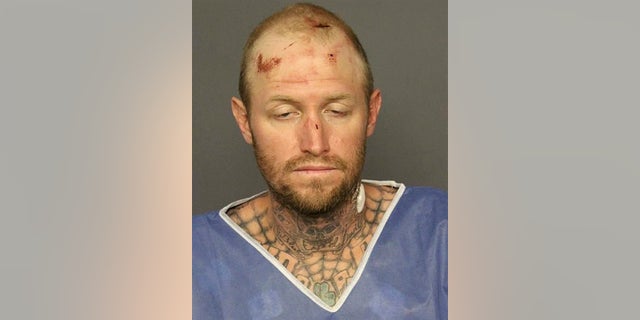 The suspect then allegedly got into a hit-and-run crash with the tractor before hitting the fence of a golf course. He allegedly tried to steal a construction truck but fled in the tractor as police chased him. Busch reportedly almost crashed into pedestrians, but the chase ended after a police squad car rammed the tractor's front end in downtown Denver, stopping it.
MAN ACCUSED OF MURDERING NEW YORK CITY NURSE MAY BE CONNECTED TO SIX OTHER SLAYINGS: OFFICIALS
Busch is accused of resisting arrest before choking and biting Zeke, a 4-year-old police dog, the Denver Post reported. Zeke was injured in the incident but has returned to work.
Busch was slated to appear in court on Monday and it was not immediately clear if he has an attorney.
The Associated Press contributed to this report.