Charlottesville white nationalist rally blamed for 3 deaths, dozens of injuries
A 32-year-old woman was killed Saturday and 19 others were injured, five of them critically, when a car rammed into a group of counter-protesters during the "Unite the Right" rally in Charlottesville, Va.
A helicopter crash that killed the pilot and a passenger later in the afternoon outside the university town also was linked to the rally by State Police, though officials did not elaborate on how the crash was connected.
At a late afternoon news conference, Charlottesville Police Chief Al Thomas said that 35 people had been injured in various confrontations during the rally and made a point of saying that none of those involved his officers. Thomas also said that the car crash was being treated as an act of "criminal homicide."
The chaos boiled over at what is believed to be the largest group of white nationalists to come together in a decade: the governor declared a state of emergency, police dressed in riot gear ordered people out and helicopters circled overhead. The group had gathered to protest plans to remove a statue of the Confederate Gen. Robert E. Lee.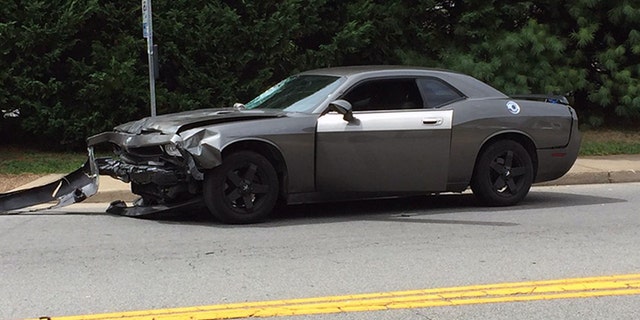 WARNING: VIDEO CONTAINS GRAPHIC IMAGES AND LANGUAGE
Matt Korbon, a 22-year-old University of Virginia student, told the Associated Press several hundred counter-protesters were marching when "suddenly there was just this tire screeching sound." A silver Dodge Challenger smashed into another car, then backed up, barreling through "a sea of people."
The impact hurled people into the air. Those left standing scattered, screaming and running for safety in different directions.
Virginia Secretary of Public Safety Brian Moran told The Associated Press that the driver of the car, a man, was in custody. Moran did not provide the driver's name.
The crash occurred approximately two hours after clashes in which hundreds of people scramed, chanted, threw punches, hurled water bottles and unleashed chemical sprays on each other ahead of the scheduled noon demonstration.
Adressing those who he called "the white supremacists and the Nazis who came into Charlottesvillle today," Virginia Gov. Terry McAuliffe told them to "go home."
"There is no place for you here," McAuliffe said. "There is no place for you in America ... Go home and never come back."
Hours earlier, President Donald Trump condemned "in the strongest possible terms" what he called an "egregious display of hatred, bigotry and violence on many sides" after the clashes. He called for "a swift restoration of law and order and the protection of innocent lives."
Hours later, Trump tweeted condolences to the families of the victims of the helicopter crash — who he identified as Virginia state troopers — and the unidentified woman who was killed by the car.
Right-wing blogger Jason Kessler had planned what he called a "pro-white" rally to protest Charlottesville's decision to remove a statue of Confederate General Robert E. Lee from a city park.
Oren Segal, who directs the Anti-Defamation League's Center on Extremism, said multiple white power groups had gathered in Charlottesville, including members of neo-Nazi organizations, racist skinhead groups and Ku Klux Klan factions.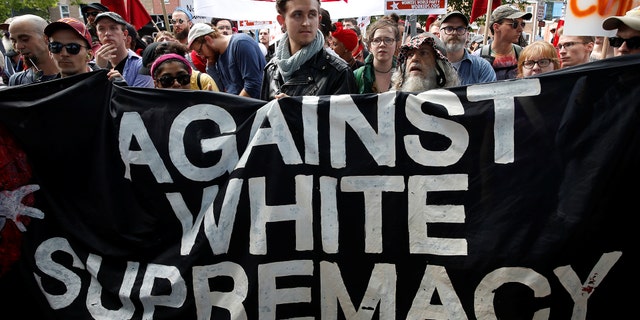 "We anticipated this event being the largest white supremacist gathering in over a decade," Segal said. "Unfortunately, it appears to have become the most violent as well."

The white nationalist organizations Vanguard America and Identity Evropa; the Southern nationalist League of the South; the National Socialist Movement; the Traditionalist Workers Party; and the Fraternal Order of Alt Knights also were on hand, he said, along with several groups with a smaller presence.

Kessler said this week that the rally is partly about the removal of Confederate symbols but also about free speech and "advocating for white people."
"This is about an anti-white climate within the Western world and the need for white people to have advocacy like other groups do," he said in an interview.
The violence was met with universal condemnation from political leaders, as well as first lady Melania Trump, who tweeted: "Our country encourages freedom of speech, but let's communicate w/o hate in our hearts. No good comes from violence. #Charlottesville."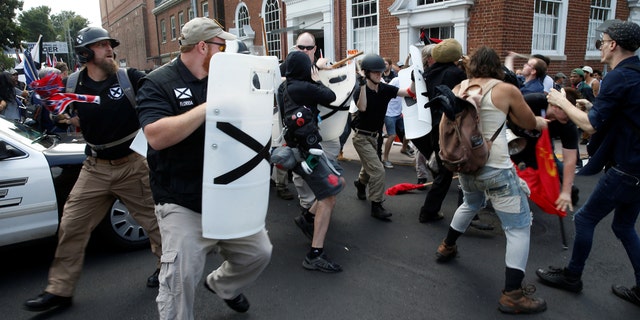 Vice President Mike Pence tweeted: "I stand with @POTUS against hate & violence. U.S. is greatest when we join together & oppose those seeking to divide us. #Charlottesville"
House Speaker Paul Ryan, R-Wis., also tweeted condemning the protests. "The views fueling the spectacle in Charlottesville are repugnant," Ryan tweeted. "Let it only serve to unite Americans against this kind of vile bigotry."
The NHL's Detroit Red Wings released a statement Saturday denouncing the user of their logo at the rally and that they are considering legal action to stop it.
The team said it "vehemently" disagrees with and is not associated with the event."
A Michigan-based white nationalist group called the Detroit Right Wings uses the Red Wings' logo.
Charlottesville Mayor Mike Signer said he was disappointed that the white nationalists had come to his town and blamed Trump for inflaming racial prejudices during his campaign last year.
"I'm not going to make any bones about it. I place the blame for a lot of what you're seeing in American today right at the doorstep of the White House and the people around the president."
Saturday's violence was the latest confrontation in Charlottesville since the city voted earlier this year to remove the Lee statue.
In May, a torch-wielding group that included prominent white nationalist Richard Spencer gathered around the statue for a nighttime protest, and in July, about 50 members of a North Carolina-based KKK group traveled there for a rally, where they were met by hundreds of counter-protesters.
The city has also renamed Lee Park, where the statue stands, and Jackson Park, named after Confederate General Thomas "Stonewall" Jackson. They are now called Emancipation Park and Justice Park, respectively.
A group called the Monument Fund filed a lawsuit arguing that removing the statue would violate a state law governing war memorials. A judge has agreed to a temporary injunction that blocks the city from removing the statue for six months.
Fox News' Doug McKelway and The Associated Press contributed to this report.