Cesar Sayoc, mail bombing suspect, arrested in Florida: Everything we know so far
The man authorities allege waged a week-long reign of terror against prominent Democrats by sending crude bombs through the mail is reportedly a former stripper and bodybuilder who attended pro-Trump rallies — often sporting a red MAGA cap — and posted partisan rants online.
Cesar Sayoc, a 56-year-old who lived in Aventura, Florida, was taken into custody Friday and charged with five federal crimes. He was arrested at an auto parts store in Plantation, located about 20 miles from Opa-locka, where investigators discovered several suspicious packages in a U.S. postal facility.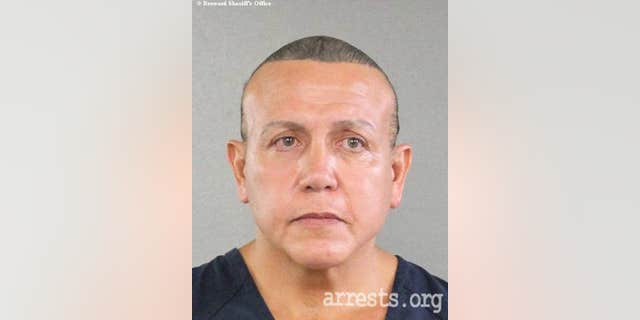 Photos of what many claimed to be Sayoc's white van surfaced on live television, as officials put a tarp over it and transported it, and later, in more detail, online. The van, which was parked in a Plantation neighborhood, appeared to be covered in stickers and photos of President Donald Trump and Vice President Mike Pence, in addition to other stickers about politics and soccer.
Sayoc's arrest comes days after a coast-to-coast manhunt for the culprit behind what appeared to be a mail bombing campaign.
At least 13 suspicious packages have been recovered since Monday, when an explosive device was placed inside the mailbox of liberal billionaire George Soros. Since then, at least nine other vocal Trump critics — including former President Barack Obama, former Vice President Joe Biden, former Secretary of State Hillary Clinton, California Rep. Maxine Waters, former Attorney General Eric Holder, New Jersey Sen. Cory Booker, actor Robert De Niro, former intel chief James Clapper and former CIA Director John Brennan — have been targeted in what appeared to be a mail bombing campaign. A thirteenth package intended for Sen. Kamala Harris, D-Calif., was intercepted in Sacramento Friday, a law enforcement source confirmed to Fox News.
SUSPICIOUS PACKAGES ADDRESSED TO OBAMA, CLINTON, OTHERS: A FULL LIST OF RECIPIENTS
The potentially explosive devices were intercepted in New York, Washington, D.C., Florida, Delaware and California.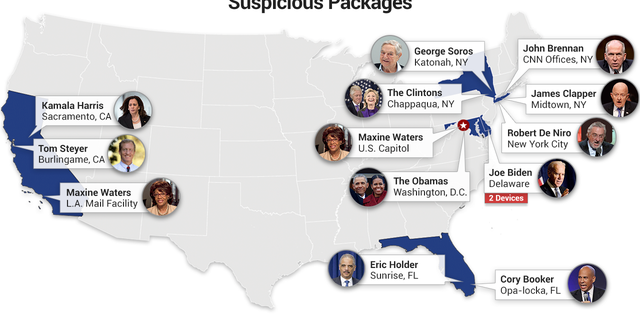 The postal markings on the packages appeared to stem from the Sunshine State, leading investigators to concentrate on Florida as a "region of interest," two sources previously told Fox News.
Here's what we know so far about the alleged package bombing suspect.
Who is he?
Sayoc, a former New Yorker who now resides in Aventura, Florida, is a "promoter" and "booking agent" for male stripper and burlesque shows, including touring dance troupe Chippendales, according to multiple reports. Ohio event promoter Tony Valentine told The Washington Examiner Sayoc was also periodically hired to strip in the 90s.
"He really couldn't find his niche in life, and I guess he found it now," Valentine told the newspaper. "Back in the '90s, he was running around from Minnesota to the Carolinas to Florida. He was like a gypsy."
Photos and videos posted on what is believed to be Sayoc's social media accounts in 2016 show the Florida man attending pro-Trump rallies, where he often sported a red MAGA hat and — at times — posed with Trump-Pence campaign signs. Sayoc is a registered Republican in Miami-Dade County and listed as an "active" voter, according to Florida voting records.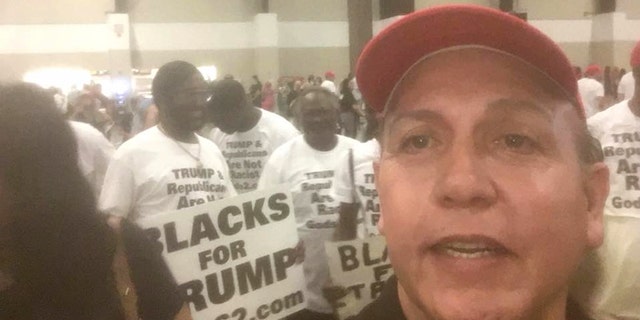 Court records show Sayoc has a history of arrests, notably a 2002 charge of making a bomb threat, which allegedly put him on law enforcement's radar.
Ronald Lowy, a Miami attorney, told The Associated Press Sayoc became frustrated about a lack of service and told a Florida Power and Light employee "something to the effect that you're not taking care of my problem and I bet you would if I threw a bomb at you."
A 2002 arrest affidavit first obtained by Orlando station WFTV states Sayoc threatened to blow up Florida Power & Light Co., claiming "it would be worse than September 11th."
Sayoc was also convicted in 2014 for grand theft and misdemeanor theft of less than $300, and in 2013 for battery. In 2004, he faced several felony charges for unlawful possession of a synthetic anabolic steroid often used to help build muscles. He also had several arrests for theft in the 1990s and faced a felony charge for obtaining fraudulent refunds and a misdemeanor count of tampering with physical evidence.
Lowy said he recalled that Sayoc also had a run-in with authorities over possession of steroids and another case in Broward County where he was charged with possessing a fake driver's license after altering his birthdate to make him appear younger.
How did law enforcement officials catch him?
Investigators examining the explosive devices sent to high-profile Democrats focused on forensic clues to help nab the suspect, gathering fingerprints and DNA evidence while tracking the origin of the packages and the components used to make the bombs. A government source told Fox News Thursday stamps on several of the suspicious packages were being analyzed by the FBI in Quantico. The FBI also reached out to retailers to zero in on where the elements of the bombs were made and where they were sold.
SUSPECT ARRESTED IN FLORIDA IN CONNECTION WITH SUSPICIOUS PACKAGES SENT TO DEMOCRATS
"[The FBI] uncovered a latent fingerprint from one of the envelopes containing an IED that had been sent to Congresswoman Maxine Waters. We have confirmed this fingerprint is that of Cesar Sayoc," FBI Director Christopher Wray said during a Friday afternoon news conference. "There's also a possible DNA connection between samples collected from pieces of two different IEDs mailed in separate envelopes and a sample previously collected from Sayok in connection with an earlier arrest down in Florida."
Trump applauded law enforcement officers' efforts in finding the suspect earlier Friday.
"We've carried out a far-reaching federal, state and local investigation to find the person or persons responsible for these events. These terrorizing acts are despicable and have no place in our country," Trump said while delivering remarks at the Young Black Leadership Summit in the White House — just hours after federal officials arrested Sayoc. Trump vowed to "prosecute" the suspect to the "fullest extent of the law."
What charges is he facing?
Attorney General Jeff Sessions announced Friday that the suspect has been charged with five federal crimes, including illegal mailing of an explosive, resulting in up to 48 years in prison if convicted. Sessions noted the charges "may change or expand as the investigation proceeds."
Sayoc will be prosecuted in New York City, a law enforcement official told The Associated Press. He will face charges in federal court in Manhattan after an initial court appearance in Florida.
Fox News' Barnini Chakraborty, Brooke Singman, Catherine Herridge, Bill Mears and The Associated Press contributed to this report.