California wildfire hero dodged debris with disabled roommate
As a firestorm bore down on his Santa Rosa neighborhood last Sunday -- when wildfires erupted across Northern California -- Ed Corn wasn't sure what would happen next to he and his wheelchair-bound roommate.
Corn ended up spending the next three and a half hours in Coffey Park dodging burning embers while pushing a wheelchair.
"We moved 20 times to avoid dying in that park," Corn told KTVU FOX2 Monday as he returned for the first time to the charred remains of his home.
Corn is a full-time caregiver for his paraplegic roommate, Heidi, and as the flames drew close, Corn knew they had little time to get out.
"Everything burst into flames; all the bushes, all the trees...just went cobalt white and twelve-foot balls of fire," he said.
The 59-year-old Corn headed across the street into the park, wrapping Kulick with wet blankets and towels along with her cat, Missy, who he felt should be safe because the grounds were well-watered.
Corn kept pushing the wheelchair through the ordeal, and at one point sought refuge behind a tree.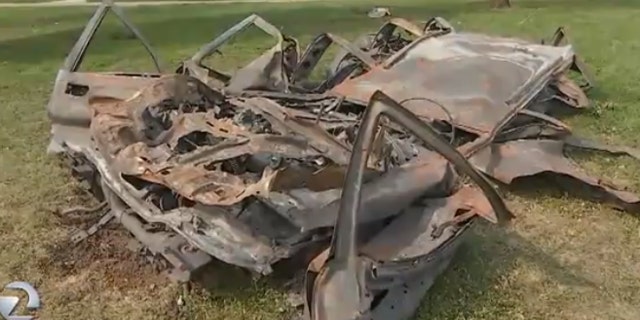 "And there are spiritual things here that, you know we were protected by some stuff," Corn told KTVU as he started to break into tears. "What we went through...so it's pretty heavy."
While Corn sustained first and second degree burns to his arm, his roommate made it through the harrowing ordeal uninjured.
Paramedics were able to rescue the pair, but Corn's dog, Gypsy, didn't make it out of the fire.
Now with no car or belongings, Corn is trying to figure out where to go next.
"This is a very big spiritual time that we all share because none of us are different, we're all the same," he said. "We're all the same with our stuff, without it."