Drones flying over California wildfires hurt firefighting efforts, officials say
Drones attempting to capture footage of the widespread devastation from the California wildfires are impeding efforts to contain the blaze and posing a serious threat to the firefighters attempting to smother the flames, officials said.
The California Highway Patrol in Santa Rosa issued the warning to drone operators on Sunday after several of the devices were seen flying over the burnt land.
"Cal Fire is reporting drones in the Petaluma area. FIRE FIGHTING PLANES CANNOT FLY IF YOUR DRONE IS IN THE AIR! Land them if you want these fires out!" officials wrote on the California Highway Patrol Santa Rosa Facebook page.
Nestor Rodriguez, 24, who was flying his drone over a Petaluma airport, was arrested on Sunday, Mercury News reported. Firefighting helicopters were forced to remain grounded for at least 10 minutes while Rodriguez's device was flying around. He was cited for impeding emergency personnel.
BOILING RIVER OF WINE FLOWS THROUGH BURNED DOWN CALIFORNIA WINERY
The wildfires ravaging northern California's wine country for more than a week killed at least 40 people and destroyed thousands of homes and businesses. Most of the deaths were reported in Sonoma.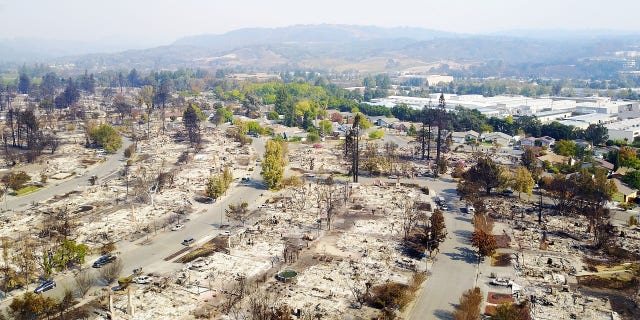 Homeowners came back to their houses over the weekend to find them completely demolished or damaged --but, in many cases, still standing. Tom Andrews told The Associated Press he was in "disbelief" to find his house still standing despite other surrounding structures having been completely destroyed.
"It was disbelief and just feeling like the luckiest guy on earth," Andrews said. "I can't believe, I mean, total destruction 50 feet away and to have our house still standing here."
Evacuation orders were lifted Monday night in two neighborhoods in Sonoma County, though the firefighters were still trying to put out the blaze. About 11,000 firefighters have been working to extinguish the wildfires.
The Associated Press contributed to this report.