California school district will no longer take part in funeral processions for Navy SEALs, sailors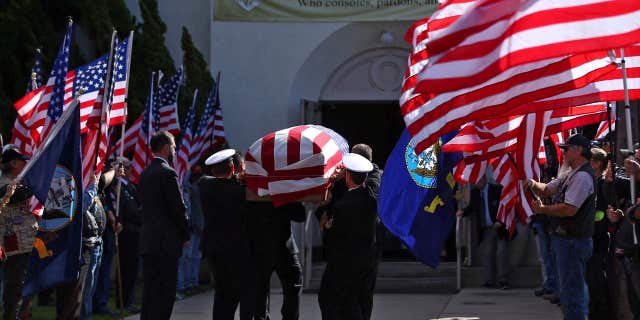 A Southern California school district will stop taking part in funeral processions for U.S. sailors and Navy SEALs killed overseas, which have drawn thousands of students.
The Coronado Unified School District and the Navy agreed on the move out of concern for children with parents serving overseas, The San Diego Union-Tribune reported Thursday.
Officials said some young participants have been traumatized by thoughts of their parents dying. At a November procession, some 2,000 students lined a street.
"Everyone's heart was in the right place. We're just saying that pragmatically — from our standpoint worrying about the safety of the community, and the school district worrying about the safety and the psyches of their students — we had to come up with a different plan," Coronado City Manager Blair King told the newspaper.
"Our concern is communicating that with the public. We're no less supportive than we ever have been, but we just can't keep continue to have these types of processions."
Coronado officials say they're also pulling out of the processions, which have morphed from informal affairs to mass media events that draw thousands of outsiders, strain police resources and increase the risk of terrorism.
"It became clear to me, after my conversations with officials from the City of Coronado, that ensuring security and safety for all of our students and the residents of Coronado throughout the procession was an incredibly difficult task for our Coronado Police Department," school district superintendent Karl Mueller said.
Some teachers told the Union-Tribune they were also concerned about how children were mentally processing the tragedies and that the discussions should lay with military parents and their commanders.
U.S. Navy officials also expressed the same sentiments.
"The practice started from a good place, but when we learned that young students were being traumatized by these events we wanted to show the city and school district that we could enjoy the same level of patriotism through other programs," Navy Base Coronado spokeswoman Sandra DeMunnik told the paper.
Mueller added that there has not been any major pushback, aside from a few residents who have "expressed disappointment because they thought it was a good moment for reflection and added dignity to the procession."
King said participation at the processions had been mostly down since 2010. However, the entire Coronado school district student body lined the streets to honor Chief Petty Officer Jason C. Finan, who was killed in Iraq fighting the Islamic State, in November of last year.
He added that police would still escort the procession through town, but use the quickest route possible.
"We're as patriotic as ever and will continue to be as patriotic as ever, and we'll still encourage individual citizens to do whatever they feel right to do."
The Associated Press contributed to this report.
Click for more from The San Diego Union-Tribune.