More than 1,000 guns seized from LA home near Playboy Mansion; suspect in custody, police say
Authorities on Wednesday seized more than 1,000 guns from an upscale Los Angeles home near the Playboy Mansion after receiving an anonymous tip about alleged illegal firearms sales, according to reports.
Officials said Los Angeles police and personnel from the federal Bureau of Alcohol, Tobacco, Firearms and Explosives (ATF) executed a search warrant around 4 a.m. Wednesday at the property on the border of the posh Bel Air and Holmby Hills neighborhoods.
MORE THAN 20 WEAPONS SEIZED FROM HOME OF MAN CHARGED WITH THREATENING JOURNALISTS, AUTHORITIES SAY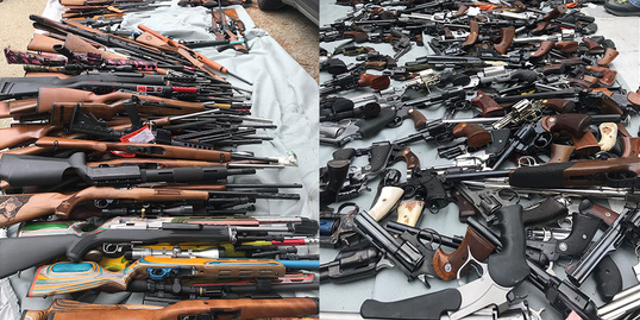 The LAPD and ATF said they were tipped off that a person was manufacturing illegal firearms inside the home and selling them to gang members, Los Angeles' Fox 11 reported. Photos from the scene showed stacks of hundreds of rifles and handguns and thousands of rounds of ammunition.
The ATF said guns were recovered along with weapons manufacturing equipment and tools. Officials said one person was in custody and they had "no reason to believe the public is in any danger."
The suspect's identity has not been released. Court records cited by the Los Angeles Times indicate that the property is owned by Cynthia Beck, who has three children with J. Paul Getty's son Gordon Getty. She purchased the home in 2001 but it remained unclear if she had any connection to the illegal activity, the report said.
"The weapons are of all makes and calibers, and models. ... This is a big, big stash you might say, that's beyond comprehension that somebody can have so many weapons in a residence like this, in a neighborhood such as this," an LAPD lieutenant said at the scene.
CLICK HERE TO GET THE FOX NEWS APP
Police officials say the investigation is ongoing in the hillside area where homes were priced this week at an average of $17 million, according to real estate listings cited by NBC News.
The Associated Press contributed to this report.