Brooklyn man killed by police after wielding pipe, taking 'shooting stance'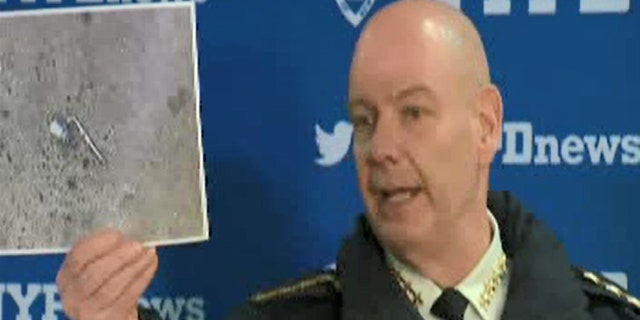 A Brooklyn man pointing an object that resembled a "silver firearm" was shot and killed by NYPD officers Wednesday afternoon after police say he encountered officers with a "two-handed shooting stance."
NYPD Chief of Department Terence Monahan said at a press conference that the NYPD received several 911 calls around 4:41 p.m. about a black male who was pointing an object at people on the street.
Three different calls came in describing the same situation.
Monahan added that there were several surveillance tapes from stores in the area that "shows a man brandishing what appears to be a firearm, pointing it at people."
SUPREME COURT SIDES WITH OFFICER IN ARIZONA POLICE SHOOTING CASE
He showed printouts of the videos that show the man pointing the object at passerby on the street.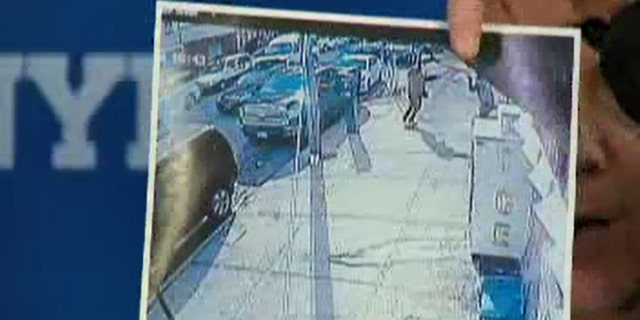 Police located the man who then, according to Monahan, "took a two-handed shooting stance, and pointed an object at the approaching officers."
Four officers fired around 10 rounds between them at the man, hitting him.
Monahan noted that these officers are not outfitted with body cameras as a part of the units they are in.
The suspect was transported to King's County Hospital, where he was pronounced dead.
FOOTAGE SHOWS TEXAS MAN POINTING GUN AT OFFICER BEFORE BEING SHOT TO DEATH
Monahan later described the object recovered as "a pipe with some sort of knob on the end of it."
He added that, "This was not an emotionally disturbed call, this was a call of a man pointing what 911 calls and people felt was a gun at people on the street."
There is an ongoing investigation into Wednesday's shooting.