Boston 'Free Speech Rally' cut short as conservative activists leave counterprotesters behind
Conservative activists cut short a planned rally in Boston on Saturday as thousands of counterprotesters chanted anti-Nazi slogans and waved signs condemning white nationalism.
The Boston Police Department announced on Twitter that the event, billed as a "Free Speech Rally," had ended around 1:30 p.m. Saturday afternoon saying "demonstrators had left the [Boston] Common."
The tweet came just a few hours after dozens of rallygoers gathered at the historic Boston Common and were met with thousands of counterprotesters who had marched peacefully through downtown Boston.
Boston Police Department Commissioner William Evans said in late afternoon there had been 27 arrests, most for disorderly conduct, along with a few for assaulting police officers.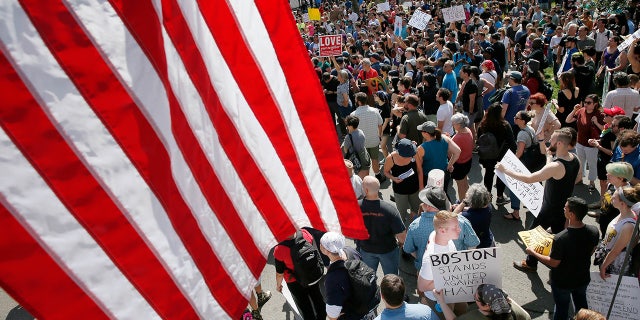 He added there were few injuries and no significant property damage.
Organizers of the rally had publicly distanced themselves from the neo-Nazis, white supremacists and others whose "Unite the Right" march in Charlottesville turned deadly Aug. Only a few dozen conservatives turned out to the Boston rally, in stark contrast to the approximately 40,000 people who showed up to protest against racism and bigotry.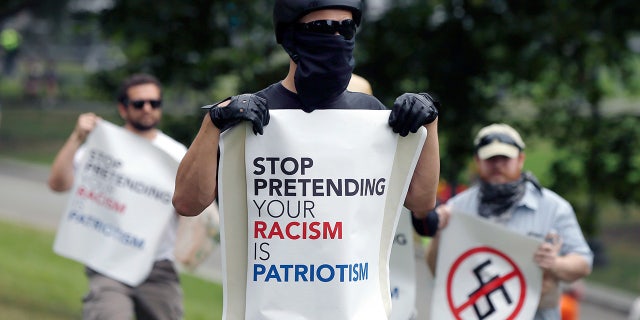 In an early afternoon tweet, President Trump praised the work of local law enforcement.
Reports said about 10 people were arrested during the demonstrations.
Boston's demonstrations were mostly peaceful, however there were some confrontation between protesters including when a person dressed in all black grabbed an American flag out of an elderly woman's hands, pulling her for several feet before she stumbled and feel to the ground.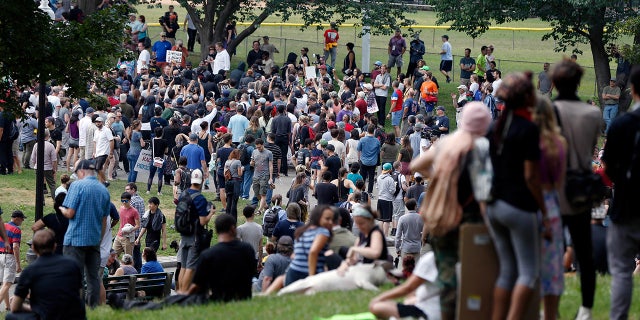 There were some confrontations amid the counterprotesters and conservative rally participants in Boston as they marched from the city's Roxbury neighborhood to Boston Common, where the rally was being held.
Boston Police Commissioner William Evans said Friday that 500 officers -- some in uniform, others undercover -- were deployed to keep the peace Saturday.
BOSTON HOPES TO KEEP PEACE AT 'FREE SPEECH RALLY'
The permit issued for the rally on Boston Common came with severe restrictions, including a ban on backpacks, sticks and anything that could be used as a weapon. The permit is for 100 people, though an organizer has said he expected up to 1,000 people to attend.
The Boston Free Speech Coalition, which organized the event, said it has nothing to do with white nationalism or racism and its group is not affiliated with the Charlottesville rally organizers in any way.
"We are strictly about free speech," the group said on its Facebook page. "... we will not be offering our platform to racism or bigotry. We denounce the politics of supremacy and violence."
But the mayor pointed out that some of those invited to speak "spew hate." Kyle Chapman, who described himself on Facebook as a "proud American nationalist," said he will attend.
Events are planned around the country, in cities including Atlanta, Dallas and New Orleans.
Dating to 1634, Boston Common is the nation's oldest city park. The leafy downtown park is popular with locals and tourists and has been the scene of numerous rallies and protests for centuries.
The Associated Press contributed to this report.