Billerica auto auction crash: At least 3 dead, 9 injured after SUV hits crowd
At least three people were killed and nine others were injured Wednesday when an SUV that was being shown to prospective buyers at a Massachusetts auto auction suddenly accelerated and crashed into bystanders.
The crash happened around 10:30 a.m. at LynnWay Auto Auction in Billerica, about 20 miles northwest of Boston, Fox 25 reported.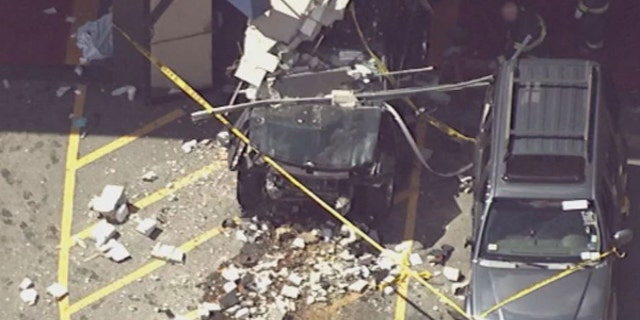 One man and two women were killed in the crash, Middlesex District Attorney Marian Ryan said at a news conference. Nine people were hurt, including two with life-threatening injuries, she said. The driver wasn't hospitalized, she said.
Investigators said an auction employee in his 70s was behind the wheel of the 2006 Jeep Grand Cherokee when it apparently lurched out of control.
Witnesses say elderly man behind wheel of Jeep that slammed into group of people...was taken away in ambulance. Injuries & fatalities #wbz pic.twitter.com/NvKpt26ptW

— Christina Hager (@HagerWBZ) May 3, 2017
Ryan said the preliminary investigation suggests the incident was a "tragic accident," though she stressed the probe is ongoing.
Massachusetts State Police investigators are working to reconstruct the accident, which happened while several hundred people were in the building.

Ryan did not release the name of the driver, a man in his 70's who she said is an employee at LynnWay Auto. Only employees, Ryan said, are permitted to drive vehicles at auto actions on site. The driver was not hospitalized after the incident.
Witnesses told Fox 25 the driver had a medical emergency and shot through the building, only stopping when the Jeep crashed through a cement wall.
"He went through the door, went through the lane of people, and then through the building," one witness told the station. "He was going fast, he was going really fast," said the witness.
Another described the scene as a "war zone," with many people left bloodied
Employee Woody Tuttle told WCVB-TV he heard tires screeching and saw the vehicle strike several people.
Tuttle told the station: "(The driver) avoided the cars and went on to hit the people who were standing between the cars."
Car dealer Fredrick Kyazze said he and a colleague had just moved out of the path of the SUV minutes before it tore through the building.
"We heard a bang from where we just came from," Kyazze said. "I thought probably the building collapsed or something like that. Then we ran back to see what was going on and ... we just saw people lying on the floor."
Emergency personnel were quick to respond to the scene because four police officers and a firefighter are routinely stationed at the auction site because of the large crowds it draws every Wednesday, Billerica Police Chief Daniel Rosa said. Ambulances from several surrounding towns responded.
Images from TV helicopters showed a vehicle covered in debris. Medics wheeled people out of the building on gurneys.
In 2015, an SUV driven by an elderly man hurtled through an auto auction in the Boston suburb of Framingham, striking other cars, patrons and a cinder block wall and injuring eight people. No charges were filed.

Fox News' Cristina Corbin and The Associated Press contributed to this report.
Click for more from Fox25Boston.com