Ben Shapiro speaks at UConn, decries bias against conservatives
Conservative commentator Ben Shapiro delivered his much-anticipated speech at the University of Connecticut Wednesday night -- and sharply criticized the school for implementing a list of restrictions making it harder for people to watch.
"Something has to be done about a system where a few crazed leftists decide they don't want to hear somebody speak -- and therefore, people from the outside who pay taxes to universities like this one can't get in," Shapiro told the audience..
He sarcastically added that nobody needed to try grabbing his speech because he provided one under every seat. Shapiro was referring to a November 28, 2017 incident at UConn when somebody snatched paperwork off the lectern of conservative commentator Lucian Wintrich, inciting an altercation. Wintrich was led away by police and released on bail, bringing a sudden end to his event entitled, "It's OK to Be White."
Speaking to Fox News' Laura Ingraham on "The Ingraham Angle," Shapiro said the university prevented more people from attending the event and the "number of people allowed in was limited" to about the 500 seats in the room.
He also said that he was told by the College Republicans that an additional 500-600 people were outside trying to attend.
Shapiro said his event was closed to the public by the university despite other speeches last week being open to the public.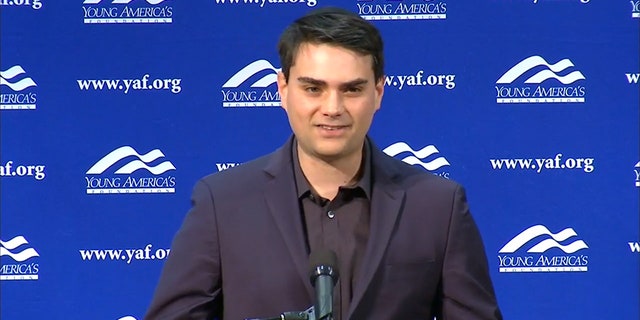 A student introducing Shapiro was asked to read a statement from the university, saying UConn considered freedom of speech to be a core value, adding that anyone should be able "to speak without interruption."
Once on stage, Shapiro poked fun at the idea that the university felt the need to read a "disclaimer." When a student asked to take a selfie with him, he joked that it wasn't up to him because the university was responsible for providing tight security.
An event for the left was also being held at the same time as Shapiro's speech.
"I do find it sort of amazing by the way that the left is so afraid of open conversation that they scheduled an event at the exact same time," Shapiro responded, adding that he would like left-leaning students to come to his event because he "prefers speaking to people with whom I disagree... because discussions are useful."
Last month the university also sent out an email alerting students about Shapiro's speech, adding that counseling would be available.
Students seemed to act respectful of the conservative speaker Wednesday night, during both his speech and the Q&A portion of the event.