'Baffling': Detectives probe disappearance of Tennessee man who vanished while jogging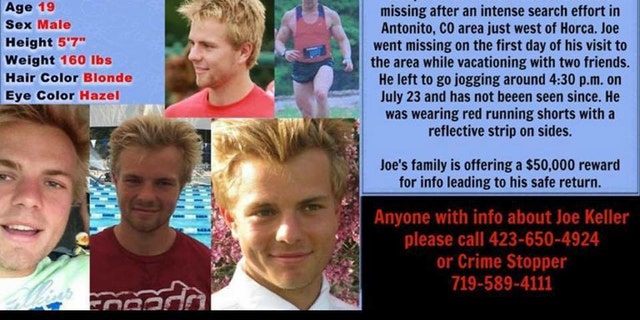 NEWYou can now listen to Fox News articles!
It's been nearly a month since Joe Keller, a 19-year-old Tennessee man on a cross-country trip with pals, went for a jog and vanished in a case that has detectives from two states baffled.
A quarter of a mile into the run, Keller, a physically fit athlete who dreamed of being a math teacher, fell behind his friend on Forest Development Road 250, a winding mountain road in Conejos County, Colo. It was the last time he was seen, and local detectives as well as their counterparts from Keller's home state came up with no evidence when they retraced the jaunt. Keller's family, desperate for answers, is offering a $50,000 reward for information that helps them find their son.
"We'd just like to know where he is, what has happened, whether he is alive or dead," said Neal Keller, Joe's father. The elder Keller has left the family home in Cleveland, Tenn., to help search for his son.
"We'd just like to know where he is, what has happened, whether he is alive or dead."
Since his disappearance, authorities have combed the area near the town of Antonito using four-wheelers, K-9 teams, a horseback patrol, a helicopter and numerous foot searches. In recent days, the FBI has joined the case, but clues remain elusive. One law enforcement authority described the case as one of the most baffling in his career, and Conejos County Sheriff Howard Galvez said foul play cannot be ruled out.
"We understand the family's frustration, and are doing everything humanly possible, with so little information that we have received so far," said Galvez, whose county lies in a rugged part of southern Colorado near the New Mexico state line.
Keller, who is about to begin his sophomore year at Cleveland State Community College, volunteers at his town's Salvation Army and helps coach a local swim team. He and his friends were working their way across the country before classes begin.
So far, the only lead is a report of a suspicious black van seen in the area where Keller disappeared. Galvez's office said that clue turned up in a comment on a Facebook page related to the case, and authorities have not yet verified it.
The Conejos County Sheriff's Office, a relatively small department, initially turned down an offer from the Bradley County Sheriff's Office in Keller's hometown to send investigators to Colorado to help with the search. But the Colorado department later allowed two investigators from Bradley County to help early last week.
"We will continue to gather any information locally that might assist Colorado authorities in the search for Joe Keller," Bradley County Sheriff Eric Watson says.
The Conejos County Sheriff's Office has since called off its official search, although it's asking for anyone with information to contact their office at (719) 376-2196. Authorities have also entered Keller's information into the missing and exploited children's network and into Walmart's missing person's bulletin.
Neal Keller remembers the words he spoke to his son as the young man left home.
"I said, 'Joe, y'all have fun, be safe and I'll see you when you get home,'" he said. "That hasn't happened yet."
The elder Keller is now offering a $50,000 reward for information that leads to Joe's whereabouts. He's hoping that campers in the area may have seen Joe on July 23.
Friends also have started a "Find Joe Keller" Facebook page. Joe Keller is described as 5 feet, 7 inches tall, 155 pounds and in good physical shape. He was last seen wearing red shorts and blue running shoes.