At least 18 dead as some areas across Northeast see more than 3 feet of snow from monster blizzard
A once-in-a-lifetime blizzard, packing hurricane-force winds, brought much of the East Coast to a crippling halt Saturday, dumping an upwards of 3 feet of snow, stranding tens of thousands of travelers and shutting down Washington, D.C. and New York City.
At least 18 deaths were blamed on weather-related incidents, including car crashes, snow-shoveling mishaps and hypothermia. However, most of the 80 million people in the storm's path heeded requests to stay home and off the roadways. Snow is expected to persist until early Sunday, forecasters warned.
"This is going to be one of those generational events, where your parents talk about how bad it was," Ryan Maue, a meteorologist for WeatherBell Analytics, said from Tallahassee, Florida, which also saw some flakes.
The blizzard dropped snow on states from the Gulf Coast all the way up to New England and by Saturday afternoon some areas around Washington had reported receiving up to 30 inches, while the heaviest report came from a rural area of West Virginia with 40 inches.
As the storm ramped up, forecasters increased their snow predictions for New York and warned areas as far north as Boston to gear up for some wicked weather.
"This is kind of a Top 10 snowstorm," said weather service winter storm expert Paul Kocin, who co-wrote a two-volume textbook on blizzards.
It was Top 3 in New York, where more than 25 inches of snow had fallen as of 7 p.m. Saturday, close to the record, 26.9 inches, set in February 2006.
Three deaths were reported in Queens and Staten Island stemming from snow shoveling. New York City landmarks – Rockefeller Center, Times Square and Penn Station – remained mostly empty throughout the day. Those who ignored the warnings to stay inside walked down the middle of snow-covered streets to avoid even deeper drifts on the sidewalks.
New York Gov. Andrew Cuomo imposed a travel ban in the city for the entire day, ordering all nonemergency vehicles off the roads. Commuter rails and above-ground segments of the nation's biggest subway system shut down, too, along with buses.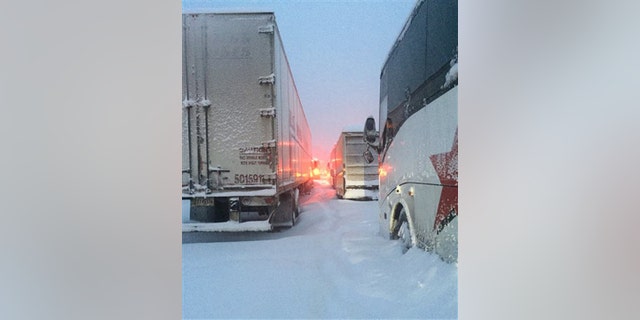 Without a bus, home health aide Elijah Scarboro couldn't get to his next client, an 89-year-old man with Alzheimer's disease.
"I wish I could get there, but I can't," Scarboro said, hoping the man would be safe at home with his wife.
Cuomo announced late Saturday that bus service will resume as early as 7 a.m. Sunday. He also urged commuters to be careful while traveling.
"The travel ban issued earlier today allowed emergency teams to make significant progress in clearing the roads," Cuomo said. "As crews continue to respond to the storm and the severity of weather conditions decrease, we are lifting the travel ban so New Yorkers can resume their daily routines. Public safety is of paramount importance and we encourage New Yorkers to continue exercising caution while traveling."
As recently as Friday night, New York officials had expected the storm to top out at 18 inches. But that prediction jumped to 28 inches by Saturday evening. The scenario was much the opposite of what unfolded a year ago, when a storm carrying predictions for 18 to 24 inches of snow prompted officials to shut down the subway system completely, but far less than a foot ultimately fell.
In Washington, monuments that would typically be busy with tourists stood vacant. All mass transit in the capital was to be shut down through Sunday.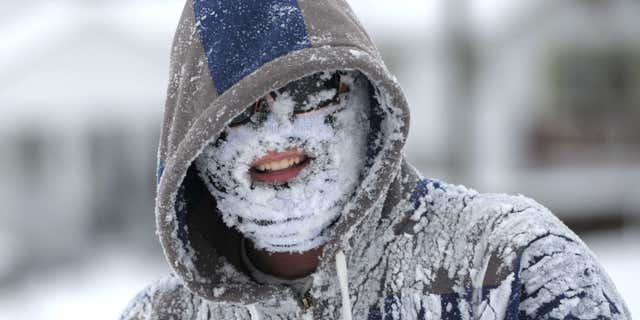 Throughout the region, drivers skidded off snowy, icy roads in accidents that killed several people as the storm raged Friday and Saturday. Those killed included a 4-year-old boy in North Carolina; a Kentucky transportation worker who was plowing highways; and a woman whose car plunged down a 300-foot embankment in Tennessee.
An Ohio teenager sledding behind an all-terrain vehicle was hit by a truck and killed, and two people died of hypothermia in southwest Virginia. In North Carolina, a man whose car had veered off an icy-covered road was arrested on charges of killing a motorist who stopped to help.
In Kentucky, Pennsylvania and West Virginia, drivers were marooned for hours in snow-choked highways.
The Temple University women's gymnastics team, the Duquesne University's men's basketball team and a church group from Indiana were among travelers who got stuck when the Pennsylvania Turnpike turned into a snowy parking lot.
Father Shaun Whittington said he and his nearly 100 parishioners, mostly teenagers, got stranded on their way home Friday evening from the March for Life in Washington. They had enough gas to keep the buses running and enough DVDs to keep the kids entertained until nearly noon Saturday, when plows finally arrived, Whittington said.
"We're on a pilgrimage," he said. "There's going to be suffering with that."
Roofs collapsed on a historic theater in Virginia and a horse barn in Maryland, while seaside towns in New Jersey, Delaware and Maryland grappled with flooding.
The first round of New Jersey flooding came with the morning tide. Water began overflowing into streets in some towns into Saturday night. A string of resort towns was temporarily isolated Saturday morning by floodwater that inundated homes and restaurants.
"A lot of properties have water in them. But it may not be until later Sunday that they can assess the damage," said Diane Wieland, a spokeswoman for Cape May County.
In Delaware, flooding closed a popular route to the state's beaches and forced about a dozen people to leave the low-lying community of Oak Orchard. In Ocean City, Maryland, Delmarva Power cut electricity to hundreds of customers as storm surge flooding submerged equipment used to power the downtown area. NJ.com reported more than 99,000 people were without power in New Jersey, while about 40,000 people were without power throughout Virginia, according to Dominion Power.
Gale warnings are in effect through Sunday morning along the North Carolina coast, the National Weather Service said, with winds of 30 mph expected along with rough seas.
Officials in New Jersey were assessing damage caused by the flooding. Firefighters went into a flooded area of Sea Isle City to battle a blaze at another restaurant that may have been linked to the high waters.
The snow was whipped into a maelstrom by winds that reached 75 mph at Dewey Beach, Delaware, and Langley Air Force Base, Virginia, the weather service said. From Virginia to New York, sustained winds topped 30 mph and gusted to around 50 mph. And if that weren't enough, the storm also had bursts of thunder and lightning.
Airlines canceled nearly 7,000 weekend flights and started to cut Monday service. Stranded travelers included Defense Secretary Ash Carter, whose high-tech aircraft, the Doomsday Plane, couldn't land at Andrews Air Force Base in Maryland after returning from Europe. Carter was rerouted to Tampa, Florida.
The storm also knocked out electricity to thousands of homes and businesses.
The Associated Press contributed to this report.