DC braces for more than 2 feet of snow as powerful storm hits
The front end of a monster blizzard that's expected to impact more than 70 million people began dumping snow on the nation's capital Friday, as an army of plows fought to keep open major arteries and transportation systems long enough to allow thousands of workers to get home before the worst hit.
Officials say Washington's Metro subway system is set to shut down entirely late Friday night and remain closed through Sunday for the safety of workers and riders. Underground stations usually stay open during major snowstorms. Mayor Muriel Bowser urged government workers to head home by the early afternoon, warning the storm had "life and death implications."
Tens of thousands of people crowded into the airports. Some 2,900 flights were canceled for Friday, most in Charlotte and Raleigh, North Carolina. Thousands more were delayed.
More than 3,300 flights were canceled for Saturday, including all flights into and out of Philadelphia International Airport. All major airlines have issued waivers for travel over the weekend, allowing passengers to rebook onto earlier or later flights to avoid the storms.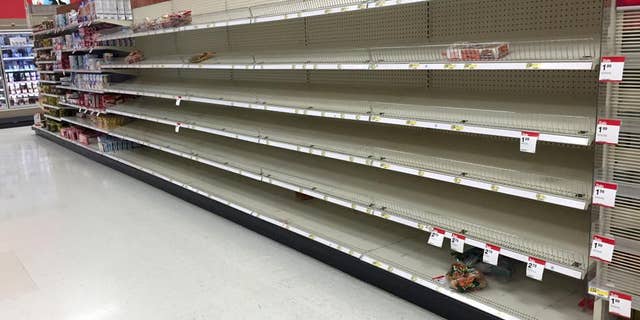 The storm is expected to hit areas around the nation's capital the hardest, dropping more than 2 feet of snow. Philadelphia could get 12 to 18 inches and New York 8 to 10, although some forecasts suggest even more, National Weather Service forecaster Daniel Peterson said.
"This is probably going to be one of the top three snowfalls of all-time for Washington," he added.
Train service could be disrupted by frozen switches, the loss of third-rail electric power or trees falling on wires. Across the region, track workers, power company employees, road crew members, firefighters and other first-responders were mobilized for the long weekend. In New York City, 79 subway trains will have "scraper shoes" to reduce icing on rails, the Metropolitan Transit Authority said.
Conditions quickly became treacherous as the storm moved northeast. Arkansas and Tennessee got eight inches; Kentucky got more than a foot, and states across the Deep South grappled with icy, snow-covered roads and power outages. At least eight people died in traffic fatalities in the dangerous weather.
The National Weather Service issued blizzard warnings stretching from northern Virginia to parts of New York's Long Island, where the U.S. Coast Guard warned seas could swell up to 18 feet. The blizzard warnings are scheduled to last until early Sunday.
Gov. Chris Christie declared a state of emergency in New Jersey late Friday and said roadways had been pre-brined but suggested people stay home on Saturday.
Forecasters also warned of "thundersnow," a dangerous type of thunderstorm that drops snow instead of rain.
"The most intense part of the storm will come Saturday morning from around 4 a.m. through 12 p.m," said Fox 5 DC meteorologist Gary McGrady. "We can expect heavy snow, possibly 2 inches per hour, and blizzard conditions with 30 to 35 mph winds creating legitimate whiteout conditions." McGrady added that his forecast called for between 1 and 2 feet of snow to fall in the national capital region before all was said and done.
That same storm system dropped 6 inches of snow in the Little Rock area overnight, breaking a snowfall record set more than 20 years ago. Schools and state government offices in central Arkansas shut down on Friday. The state's largest utility, Entergy Arkansas, said about 12,500 homes and businesses lost power
The Mid-Atlantic region is notorious for struggling to cope with winter weather, and a light dusting on Wednesday night served as an ominous prelude to the massive blizzard.
Less than an inch of snow was enough to immediately turn roadways treacherous in the District, Maryland and northern Virginia, causing hundreds of accidents and leaving drivers gridlocked for hours. President Obama wasn't spared, as his motorcade slowly weaved and skidded along icy streets to the White House.
The U.S. Capitol Police said sledding on Capitol Hill — which only recently became legal after an act of Congress — would be welcome for the first time in decades, as long as conditions are safe.
Even the start of the snowstorm couldn't keep some tourists from visiting the White House.
On Friday afternoon, several groups and couples were walking in the park in front of the mansion, and the fountain in the home's yard was still spraying water.
Newlyweds Stefan Tomic and Cherokee Tomic, both 22, were visiting from New York and had just arrived in the city Friday by bus. They said they didn't want to change their plans because of the weather and that their first stop was the White House.
"We're just going to have fun," Cherokee Tomic said.
As far south as Atlanta, people were urged to go home and stay there to avoid a repeat of the city's "icepocalypse," when a fairly light winter storm in 2014 caused commuter chaos for days.
NWS Director Louis Uccellini warned at a news conference that the snowfall could easily cause more than $1 billion in damage and paralyze the Eastern third of the nation.
"It does have the potential to be an extremely dangerous storm that can affect more than 50 million people," Uccellini said at the service's Weather Prediction Center in College Park, Maryland.
The Associated Press contributed to this report.