As Hurricane Florence barrels toward US, 'worst case scenario' simulation of Category 4 storm shows catastrophic devastation
A 15-foot storm surge, up to nine inches of rainfall in some areas, downed powerlines and widespread power loss would be among the devastating results of a Category 4 hurricane striking the Mid-Atlantic region head on, a recent simulation storm by FEMA concluded.
Just months ago, disaster planners with the Federal Emergency Management Agency (FEMA) and Argonne National Laboratory simulated a fictional Category 4 hurricane barreling into southeast Virginia and up the Chesapeake Bay to strike the nation's capital – alarmingly similar to the real-world scenario now unfolding on the dangerously vulnerable stretch of the East Coast with Hurricane Florence.
HURRICANE FLORENCE'S PATH: TRACK THE STORM HERE
"What they were trying to do was create a worst-case scenario, but it's a very realistic scenario," said Joshua Behr, a research professor at Virginia's Old Dominion University who in involved in disaster modeling and simulations.
The FEMA study was of a "national level exercise" in late April and early May that included senior leaders from the White House, along with more than 91 federal departments and agencies.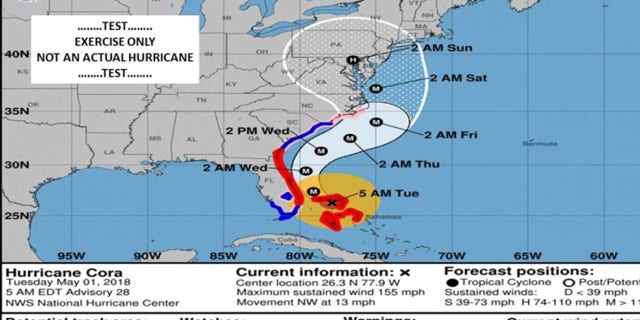 The devastating damage from the fictitious "Hurricane Cora" has some experts concerned about Hurricane Florence – a Category 4 storm barreling toward the same Mid-Atlantic region with the Carolinas right in its eyesight.
As of 2 p.m. Wednesday, Florence downgraded to a Category 3 hurricane but is expected to go back to a Category 4 by Thursday morning. It was about 435 miles southeast of Wilmington, North Carolina with maximum sustained winds of 125 mph. Experts are concerned the hurricane could produce a disaster comparable to 2005's Hurricane Katrina in a part of the country that is famously difficult to evacuate.
HURRICANE FLORENCE COULD BRING CATASTROPHIC STORM SURGES: WHAT ARE THEY, AND HOW CAN YOU PREPARE?
The Hurricane National Center said Florence could bring storm surges upwards of nine feet in most areas across the shoreline and up to 13 feet in areas between Cape Fear and Cape Lookout, North Carolina. They also forecast up to 40 inches of rainfall in some isolated areas of the Carolinas.
"What I fear is that saturation, combined with a storm that kind of stalls out," said Behr, who has studied vulnerable populations in the paths of Hurricane Katrina on the Gulf Coast and in the Hampton Roads region.
The disaster planners simulated Hurricane Cora striking the heart of the Mid-Atlantic region and the damage up-and-down the coastal states was catastrophic.
HURRICANE FLORENCE EMERGENCY CONTACTS TO NOTE AS 'EXTREMELY DANGEROUS' STORM HITS EAST COAST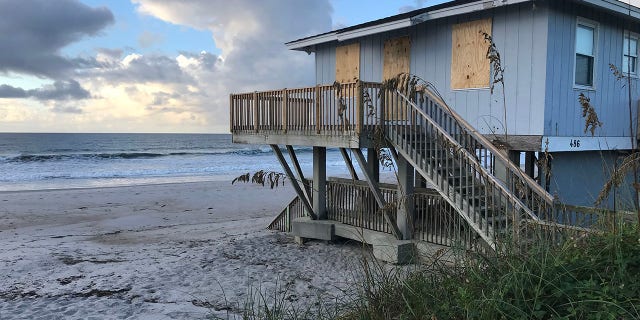 The hurricane damaged key roads making evacuations difficult, knocked out power at most gas stations in the region, and slammed hurricane-force winds into three nuclear power stations, damaging one, according to a Department of Energy simulation manual.
The make-believe hurricane also threatened hundreds of cell towers and power was knocked out at 135 data centers in Virginia and another 60 in Maryland.
The Cora scenario projected hurricane-force winds inflicting "catastrophic damage" to homes and significant damage to critical infrastructure within a 50-mile radius of the hurricane's center. The manual makes no mention of deaths and injuries, focusing instead on infrastructure.
PICTURES: PREPARATIONS FOR HURRICANE FLORENCE
Forecasters with the National Hurricane Center said that while Florence is expected to slow down considerably by late Thursday and into Friday, it will still be an "extremely dangerous major hurricane" when it makes landfall.
The Associated Press contributed to this report.