Army veteran hailed as D-Day hero admits he didn't land in Normandy invasion
A 96-year-old World War II veteran hailed as an American D-Day war hero after surviving a fierce battle against the Germans on the cliffs of Normandy has admitted he was actually in northern Ireland at the time, according to a French nonprofit organization.
George G. Klein was treated as "one of the great celebrities" during the 73rd anniversary of the Normandy battle during a ceremony there last month, where he was honored as one of the 90 surviving members of the elite 2nd Ranger Battalion that battled the Germans on the cliffs of Pointe du Hoc on June 6, 1944.
"His good humor and smiles were not feigned: George expressed his joy of returning to Normandy for the second time and meeting the Normans, explaining: 'I am not a hero. The real heroes are those who have lost life here,'" according to Marc Laurenceau, who runs D-Day Overlord, a French organization dedicated to the Battle of Normandy.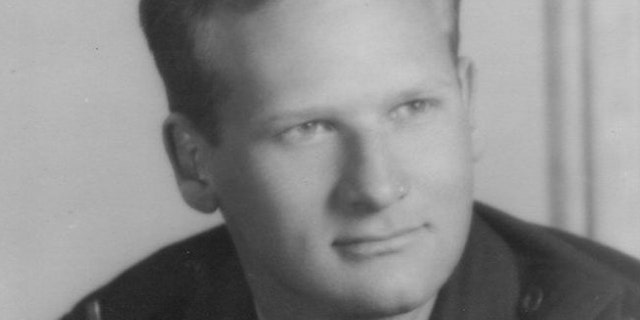 Klein's return to Europe at a cost of more than $5,000 was paid for by "dozens of donors" and was arranged by the volunteers connected to the group.
"But only weeks after his return to the United States, the extraordinary news is made public: George Klein is not the one he claims to be," according to Laurenceau's account, which was posted online Monday. "On June 6, 1944, the American veteran was not among the 2nd Ranger Battalion to attack the cliffs of Pointe du Hoc, this formidable German artillery position threatening the landing beaches."
Klein was nowhere near the beaches of Normandy. Instead, he was in northern Ireland with the B battery of his artillery regiment, the 46th Field Artillery Battalion, 5th Infantry Division.
The discovery is the work of several historians, Laurenceau said, including Marty Morgan and Gary Sterne, who owns a museum dedicated to D-Day and the Battle of Normandy in the French town of Grandcamp-Maisy.
Klein, over the course of two decades, claimed to have been one of the officers within F Company of the 2nd Ranger Battalion, recounting three days he spent fighting German soldiers at Pointe du Hoc and scaling 100-foot cliffs.
Click for more from the New York Post.