Antifa protests mean high security costs for Berkeley Free Speech Week, but who's paying the bill?
The University of California, Berkeley doled out a reported $600,000 in security measures for Thursday night's speaking engagement by conservative pundit and former Breitbart editor Ben Shapiro.
The whopping sum spent on security, however, could be just a drop in the bucket compared to what the school could pay later this month when a group of conservative commentators descend on the college campus for "Free Speech Week," a four-day conference featuring former White House chief strategist Steve Bannon, writer Ann Coulter and conservative provocateur Milo Yiannopoulos.
While neither officials at the University of California nor the city of Berkeley have said how much they will spend on security, the number is expected to far surpass the $600,000 spent for the Shapiro speech as the college town has been hit this year by a number of violent – and costly -- protests targeting conservative speakers.
In February, black-clad Antifa protesters vandalized university buildings and started fires to prevent Yiannopoulos from giving a speech on campus. The violence forced the cancellation of his speech. In April, Coulter cancelled a speech at the school after the Young America's Foundation pulled its support for the event amid threats of violence.
Then in August, a group of around 100 hooded members of Antifa stormed what had been a largely peaceful Berkeley rally for free speech and attacked at least five people, including the leader of a politically conservative group that had canceled an event a day earlier in San Francisco to avoid potential violence.
Shapiro's speech on Thursday went off relatively peacefully, although Berkeley police did arrest nine people – three on weapons-related charges.
"We've never seen a situation like this," said UC-Berkeley's new chancellor, Carol Christ, according to the Los Angeles Times. "It's very unique. It's a very different political dynamic where free speech … at Berkeley has become the occasion for the right and left to confront each other."
Some – including conservatives who have had their speeches interrupted or canceled amid the protests – blame the school and Berkeley police for fostering an atmosphere that has allowed Antifa and other violent left-wing groups to wreak havoc.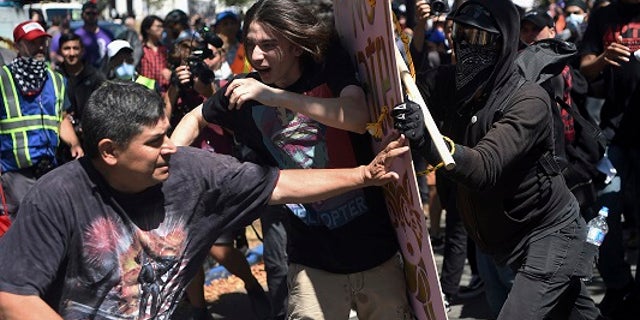 "They created this environment themselves, they nurtured this type of environment with Antifa," Yiannopoulos told Fox News. "They need to have more aggressive policing – use pepper spray, implement a no-mask policy – but instead the police have just stood down and done nothing."
For the first time in two decades, Berkeley police on Thursday were armed with pepper spray after the city council modified a 1997 ban at an emergency meeting this week.
Yiannopoulos on Thursday announced the list of speakers who will appear at "Free Speech Week." His organization had initially intended to slowly roll out the list over a two-week period, but decided to announce the entire list because the reaction to Bannon's appearance was "so huge."
Along with Bannon, Yiannopoulos and Coulter, "The Bell Curve" author Charles Murray, Breitbart editor Alex Marlow and InfoWars radio show host Mike Cernovich are also slated to make appearances.
Aside from uncertainties about the price tag for Free Speech Week and who will pay the bill, other uncertainties remain. UC-Berkeley officials said they have not been able to confirm the entire list of speakers. As of Thursday, only three speakers have contacted the school or UCPD to make security arrangements – a requirement for all events on campus.
Adding to the uncertainty around the event is the issue of who is going to pay for it all. So far, the Berkeley Patriot – the student group organizing the event -- has not paid any rental fees for the available indoor venues, has not signed any contracts for the event and has not purchased the mandatory insurance to host "Free Speech Week."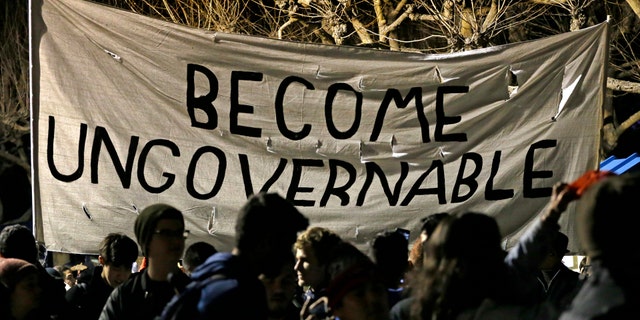 "They have not done a single one of these things," Dan Mogulof, a UC-Berkeley spokesperson, told Fox News. "They need to put things together really, really soon if they want to host this event."
Yiannopoulos -- whose media company, Milo Inc., along with the Berkeley Patriot student group is organizing the "Free Speech Week" events – said they are still negotiating with the school over payments. He added that UC-Berkeley asked his company to pay $100,000 to hold the four-day event and $45,000 to rent out one hall on the last day of the forum.
"You can rent a football stadium for that," he said, adding that he believes the school should incur the security costs.
Berkeley's Mogulof, however, contests Yiannopoulos' charge that the school is overcharging them, noting that school takes on much of the financial burden and that the organizers of "Free Speech Week" want to use the university's most state-of-the-art facilities.
"Everything the university is doing is completely standard," Mogulof said. "These are exactly the same rates charged to anyone else."