Antifa Book Tour: Author of "Anti-Fascist" Handbook begins tour in NYC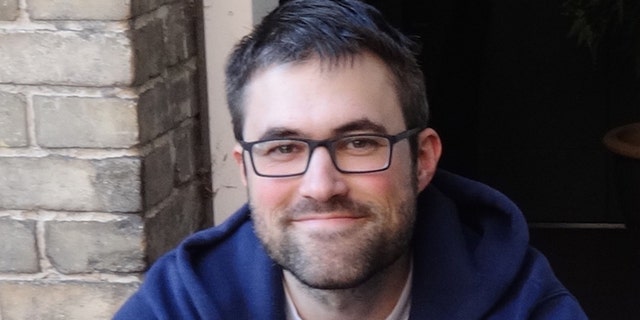 The author of the just-released "ANTIFA: The Anti-Fascist Handbook" kicked off a tour for his book in front of a New York City crowd on Monday night – but if you are envisioning a cadre of black-clad militant anarchists plotting street skirmish tactics, you would be sorely mistaken.
And while the discussion, and the book, were largely academic and historical, the author did not shy away when it came to the question of protesters arming themselves in the United States.
Mark Bray, a visiting Dartmouth professor and European historian, read excerpts of his book to a standing-room-only crowd that ranged in both age and background, before taking a variety of questions. And while activists were clearly present, the discussion unfolded more like a history lesson than a strategy session, or a reading of the infamous Anarchist Cookbook - which is exactly what Bray says he is hoping to achieve.
The author, whose comments have divided the Dartmouth community of which he is now a visiting part, began by reading an excerpt of his book that seemed intended to set the tone of the discussion.
The passage describes the experiences of a British lawmaker in the 1940s, who reported back to Parliament on the horrors that unfolded at the Buchenwald Concentration Camp. Bray references the "stacks of emaciated bodies in the back of a truck" and "charred skeletons" that this lawmaker said she witnessed with her own eyes.
When the passage was finished, Bray didn't pound his fists and call for folks to take up arms. Instead, he launched into an approximately hour-long power point-style presentation detailing the history of anti-fascist movements (primarily in Europe), their successes and failures, and why he believes the experiences of those groups suggests anti-fascists in the U.S. need to act now.
Bray shared a variety of non-violent tactics employed by anti-fascists through history. In one case, Bray said that British anti-fascists nearly a century ago were able to shut-down fascist rallies by simply toppling the podiums from which their opponents were speaking. The law at the time, Bray said, prevented microphones at public rallies from being uprighted once knocked over.
Another favorite tactic, Bray said, was calling the mothers of young fascists to let them know what their boys had been up to. This was apparently one of the most successful techniques in the effort to stymie the spread of fascism among youths in the United Kingdom.
Bray's ascent into the media cycle was not only due to the spate of recent protests involving anti-fascist protestors in the U.S., but to his public defense of violence, which he describes as self-defense, on behalf of anti-fascist groups.
During an interview in late August, Bray argued that people who share his beliefs are "not that small of a minority," before stipulating that it is when confronted with "white supremacy and neo-Nazi violence" that "self-defense [becomes] a legitimate" response.
On Monday night, Bray made it a point to say that he wasn't telling anyone in the audience what to do, and that he simply hoped others would learn from the historical anecdotes he shared. When asked about the emergence of armed militias at protests in the U.S., he made his position clear.
"The [anti-fascists] I've spoken to in other countries... are pretty freaked out about the notion of guns being involved in this," Bray said. "I'm not trying to go too far into telling anyone what to do... But I don't think it's ludicrous that if white supremacists are carrying guns, that anti-fascists might want to carry guns, too."