Alton Maddox, lawyer in Tawana Brawley hoax case, dead at 77
Maddox died Saturday in a Bronx nursing home, according to a funeral director
Civil rights lawyer Alton Maddox Jr., who gained notoriety after representing Tawana Brawley, a Black teenager who falsely accused a group of White men of a 1987 gang rape, has died. He was 77.
Maddox also represented victims in other prominent cases, including Cedric Sandiford and the family of Howard Beach attack victim Michael Griffith.
Maddox is preceded in death by his wife, Leola, and survived by son Charles.
Civil rights lawyer Alton Maddox Jr., who represented victims of several notorious racist attacks in New York in the 1980s, has died. He was 77.
Maddox died Sunday in a Bronx nursing home, funeral director Isaiah Owens said.
Maddox represented Tawana Brawley, a Black teenager who claimed that a group of white men had abducted and raped her in 1987. A grand jury determined that Brawley's story was a hoax, and former prosecutor Steven Pagones sued Maddox, fellow attorney C. Vernon Mason and the Rev. Al Sharpton for defamation for accusing him of taking part in the alleged attack.
ICONIC NEW YORK POST PUBLISHER MARTIN SINGERMAN DEAD AT 96
A jury ruled in 1998 that the three men had defamed Pagones and ordered them to pay $345,000.
Maddox also represented Cedric Sandiford, one of three Black men who were accosted and chased by a group of white men in the Queens neighborhood of Howard Beach in 1986, as well as the family of Michael Griffith, who died after he was struck by a car during the Howard Beach attack.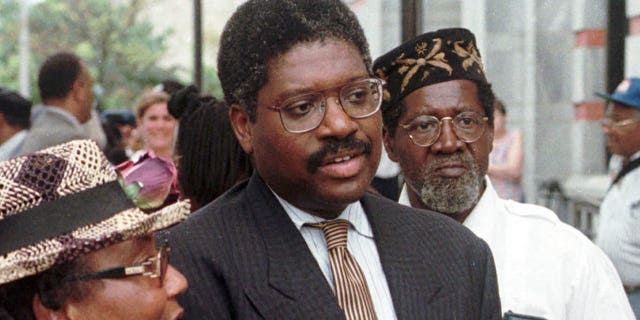 Maddox and other attorneys working with the Howard Beach victims demanded that a special prosecutor be appointed in the case. Charles J. Hynes was appointed special prosecutor and later served as district attorney of Brooklyn.
Nine people were eventually convicted of various charges in Griffith's death.
MEL KING, BOSTON CIVIL RIGHTS FIGUREHEAD AND FORMER MAYORAL CANDIDATE, DEAD AT 94
Maddox also represented the family of Yusuf Hawkins, a Black teenager who was shot to death in the predominantly white neighborhood of Bensonhurst, Brooklyn in 1989. Joseph Fama, who fired the shots that killed Hawkins, was convicted of second-degree murder and sentenced to about 32 years to life in prison. He remains in custody, according to the website of the state Department of Corrections and Community Supervision.
Maddox grew up in Georgia, attended Howard University and received a law degree at Boston College. He moved to New York City in the early 1980s.
CLICK HERE TO GET THE FOX NEWS APP
Maddox's survivors include a son, Charles. His wife, Leola, died in 2017.