After massacre, Las Vegas to post snipers on roofs for Sunday's marathon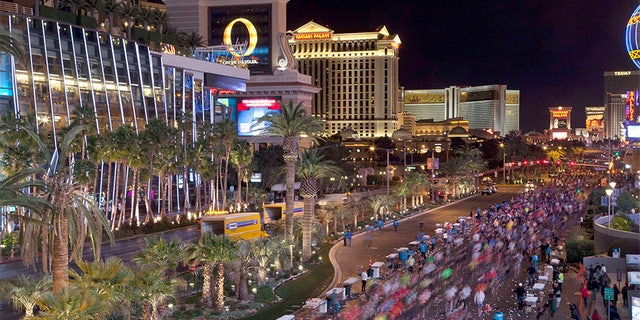 Las Vegas plans to post police snipers on rooftops during Sunday's marathon in the aftermath of the Oct. 1 mass shooting at a country musical festival.
LVPD says the beefed-up security plan for the event also includes assigning more cops to protect runners as they pass by world famous high-rise casino-hotels and the crime scene. About 350 cops will be on hand.
"We've made a few changes, some subtle things," Capt. Andrew Walsh said. "Obviously, the threat of a sniper attack is something that we know can happen. So, we added some counter-sniper surveillance posts along the route."
Organizers have urged the runners to wear their Vegas Strong gear. Tens of thousands of runners are expected to participate. There will also be a Vegas Strong signing wall on Las Vegas Boulevard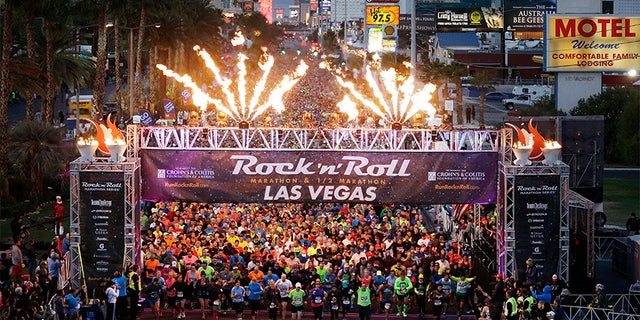 A high-stakes gambler and real estate investor killed 58 people and injured hundreds more after shattering the windows of his hotel suite and unleashing gunfire on the Route 91 Harvest music festival below. From the 32nd floor of the Mandalay Bay casino-hotel, Stephen Paddock had an unobstructed view to rain bullets on the crowd, who had few places to hide.
A police helicopter will circle runners the route of the marathon which gets underway just before sunset Sunday.
Semi-trucks, dump trucks, buses and other large city vehicles will be positioned at key intersections to try to prevent anyone from driving onto the course, Walsh said, following recent attacks in the U.S. and abroad in which vehicles have plowed into crowds.
Walsh acknowledged the event presents a huge challenge to police and encouraged casino employees, visitors and others to alert authorities of anything suspicious. Security checkpoints will be set up for the Sunday races — a marathon, half marathon and 10K — and a Saturday 5K and concert.
"With all the things that we've seen happen in the world, whether it's in Texas at a church, whether it is in New York City on a bike path, or whether it's here at a concert, the vulnerabilities that exist and try to predict and prevent each and every one of those is a tremendous challenge," Walsh said.
Organizers moved events away from the scene of the massacre. The concert, typically held at the outdoor venue where the shooting took place, was shifted miles north, across from the SLS hotel.
The start of the marathon, usually outside Mandalay Bay, was moved a mile north to the front of the New York-New York casino-hotel. The race has always featured live bands every mile, but on Sunday, the first 2½ miles — when runners will go by the crime scene twice — will be silent.
Spokesman Dan Cruz said that will serve as an extended moment of silence.
"Running the marathon symbolizes miles of grit, determination; these are driven athletes, who know all about adversity," he said. "So, for them, it's the perfect event to help Las Vegas bounce back."
The Associated Press contributed to this report.