Accused Kenosha shooter's lawyer claims self-defense amid new video
'Kyle did nothing wrong. He exercised his God-given, Constitutional, common law and statutory law right to self-defense,' defense attorney John Pierce said. 
A 17-year-old charged in two shooting deaths amid a chaotic demonstration in Kenosha, Wis., earlier this week feared for his life after being attacked by rioters who chased and beat him, his attorney said Friday.
In a lengthy statement, the lawyer for Kyle Rittenhouse, John Pierce, said prosecutors rushed to judgment in charging his client to appease "divisive" and "destructive" forces without analyzing Tuesday's events.
"This was not a serious investigation," Pierce said. "Rather, after learning Kyle may have had conservative political viewpoints, they immediately saw him as a convenient target who they could use as a scapegoat to distract from the Jacob Blake shooting and the government's abject failure to ensure basic law and order to citizens."
The shootings were recorded via cellphone and circulated online.
IN KENOSHA, JESSE JACKSON DECRIES 'SYSTEM OF RACISM IN LAW ENFORCEMENT'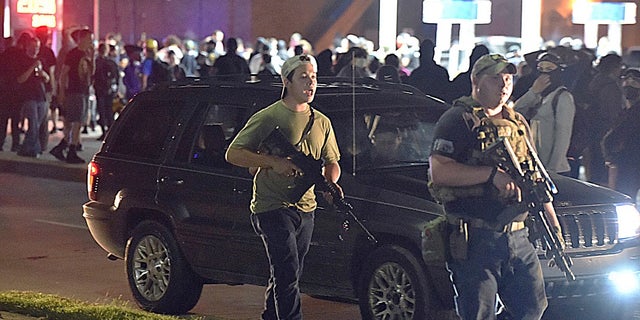 Rittenhouse faces multiples criminal charges, including first-degree intentional homicide, in connection with the fatal shooting that killed two people and wounded a third. The Antioch, Ill., resident is being held in police custody pending extradition to Wisconsin. A Friday court hearing was delayed until Sept. 25.
Pierce said Rittenhouse was armed and decided to protect an auto mechanic shop across the street from a dealership that he heard was largely destroyed during riots the night before. He said the weapon did not cross state lines, but did not say where Rittenhouse got the gun.
As demonstrators largely ignored an 8 p.m. curfew, authorities began to move people toward the auto shop, where Rittenhouse was verbally threatened by passersby, Pierce claimed.
KENOSHA VIOLENCE: SUSPECT, 17, ARRESTED IN DEADLY SHOOTING AMID JACOB BLAKE UNREST, ILLINOIS POLICE SAY
Moments before the first shooting, Rittenhouse sought out injured people to render aid at a nearby gas station, Pierce said. When he tried making his way back to the auto shop, he was chased by a "mob" who recognized him as the person guarding the shop they "wanted to destroy."
He said an attacker lunged at the teen, prompting him to fire his weapon. The attacker was struck. Rittenhouse attempted to render aid, but fled after more angry protesters headed toward him, Piece said.
"Another attacker struck Kyle from behind as he fled down the street," Pierce's statement said. "Kyle turned as the mob pressed in on him and he fell to the ground. One attacker kicked Kyle on the ground while he was on the ground. Yet another bashed him over the head with a skateboard.
"Several rioters tried to disarm Kyle. In fear for his life and concerned the crowd would either continue to shoot at him or even use his own weapon against him, Kyle had no choice but to fire multiple rounds towards his immediate attackers, striking two, including one, armed attacker," the attorney's statement continued. "The rest of the mob began to disperse upon hearing the additional gunshots."
According to a criminal complaint, Joseph Rosenbaum, 36, of Kenosha, followed Rittenhouse into a used car lot, and attempted to take the weapon from him. Rosenbaum was shot in the groin and back, according to the medical examiner.
Anthony Huber, 26, of Silver Lake, was shot in the chest after trying to wrest the gun from Rittenhouse, the complaint said. A third person, Gaige Grosskreutz, 26, was wounded in the left arm after approaching the teen, authorities said.
Rosembaum and Huber were killed.
The Kenosha Police Department or the Kenosha District Attorney's Office did not return calls and emails from Fox News.
Defense attorneys contend Rittenhouse tried contacting authorities, who indicated he should "keep moving" amid a chaotic scene. Authorities have been criticized for not arresting him after the shooting. He was taken into custody Wednesday in Illinois.
CLICK HERE TO GET THE FOX NEWS APP
"There were a lot of people in the area. A lot of people with weapons and unfortunately, a lot of gunfire," Kenosha Police Chief Daniel Miskinis said Friday. "There was nothing to suggest that this person was involved in criminal behavior.
Defense lawyers claim Rittenhouse's actions were justified while being attacked from an angry mob intent on hurting him.