A guide to Day 2 of the the Colorado theater shooting trial underway in suburban Denver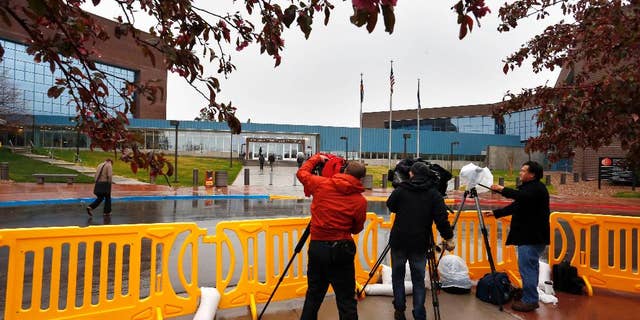 CENTENNIAL, Colo. – Testimony starts Tuesday, the second day of the long-awaited trial of Colorado theater shooter James Holmes. Here's a look at where things stand:
___
LONG-AWAITED ANSWERS:
In the trial's first hours, Monday prosecutors and defense lawyers filled in many gaps in the story of James Holmes' life: Two court-ordered psychiatric exams concluded he was sane at the time of the massacre. He has been diagnosed with schizophrenia. He died his hair reddish-orange because he thought it looked good, not because he wanted to look like The Joker, Batman's nemesis.
___
THE TRIAL SO FAR:
Prosecutors and defense lawyers gave their opening statements Monday, telling jurors what each side hopes to prove in the months of testimony that lie ahead. Prosecutors portrayed Holmes as mentally ill but crafty — and fully aware that what he was doing was wrong. The defense described him as a victim of a powerful mental illness that distorted his sense of reality and compelled him to kill.
___
WHAT'S NEXT:
Prosecutors will call their first witnesses Tuesday, starting with some of the people who were shot and wounded in the the July 20, 2012, attack.
___
A WARNING TO JURORS:
Judge Carlos A. Samour Jr. again reminded jurors to keep an open mind and to avoid talking about the case with anyone, even each other, until deliberations begin. He also forbade them to research the shooting or look up the backgrounds of anyone involved with the trial — the judge, the lawyers and their fellow jurors.
___
THE CHARGES:
Holmes is charged with 24 counts of murder and 140 counts of attempted murder — two counts for each person killed and two for each person injured. He's also charged with possession of explosives and committing a crime of violence. He pleaded not guilty by reason of insanity.
___
THE PENALTY:
If Holmes is convicted of murder, he could be sentenced to execution — which prosecutors want — or to life in prison without the possibility of parole. If he's found not guilty by reason of insanity, he would be committed indefinitely to the state mental hospital. That means if he were some day declared to be sane, he could be released, although experts say that's unlikely.
___
WHO DECIDES?
Under Colorado law, the jury will determine whether Holmes was sane or insane. If they find he is guilty, they will decide on the sentence — death, or life without parole.