6 children confirmed dead in Baltimore house fire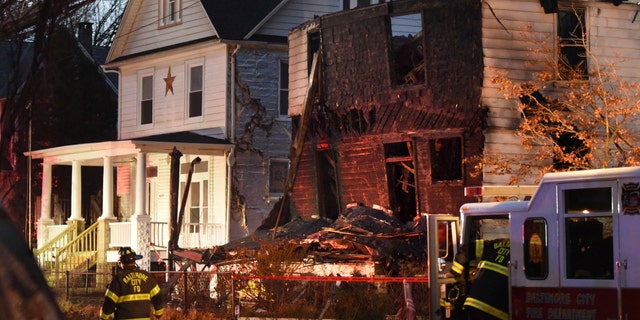 NEWYou can now listen to Fox News articles!
Firefighters have recovered the bodies of six children Thursday after a fire broke out overnight at their family home in northeast Baltimore.
Firefighters were called to the three-story house at around 12:30 a.m. and found it engulfed in flames.
The woman who lived in the home, identified as Katie Malone, is the mother of nine children who lived in the home along with their father, who was at work at the time of the fire.
Malone and three of her children escaped the home.
The children confirmed dead are two boys, ages 9 months and 2 years; 3-year-old twin girls; and two girls, ages 10 and 11, Clark said.
Fire officials said Malone and a 4 and a 5-year-old boy were hospitalized in critical condition, while another children, an 8-year-old girl was in serious condition. The little girl is said to be "in good shape" and could be released later in the day, WBBF reported.
Earlier in the day, WJZ-TV showed two small children sitting up as they were wheeled away on a stretcher and a woman on a stretcher with an oxygen mask over her face. Images from the scene show firefighters dousing the charred shell of the first two stories of the home between two other large three story single-family homes.
"It's a labor intensive process," a fire official on scene told WBFF.
William Malone said all nine are his children with Katie, who's a staff member for Rep. Elijah Cummings' district office.
He told The Associated Press that he was not home at the time of the fire because he was at work for a restaurant.
"I'm still in shock to be honest," said Malone, who was reached by phone at a relative's home. He said he does not know what may have caused the fire.
Cummings said Katie Malone has worked as a special assistant in his Catonsville office for nearly 11 years.
"My staff is a family and this unimaginable tragedy is shocking and heartbreaking to us all. I again ask for your prayers," Cummings said in a statement.
Michael Johnson, 55, who lives a block away and can see the house from his home, described it as a complete inferno.
"Fire was coming out of every window, and as they sprayed it, it seemed like the fire was fighting back or something. It just kept coming and coming and coming. Fire was actually coming out of the sides of the house. I've never seen anything like that in my life," Johnson said.
Johnson, who didn't know the family, added that he was praying for the people inside.
"It was just so intense," he said. "I didn't think anyone would be able to survive it at all."
Baltimore City Schools' CEO Dr. Santelises said in statement, "I am heartbroken by the devastating reports of last night's fire, and I pray for the children and family who were trapped in this tragedy. We are waiting for more complete information on those involved, and we will do everything in our power to support their families and schools. Our thanks go out to the first responders who fought so valiantly to save those inside."
The third floor collapsed and the second floor partially collapsed, fire department spokesman Chief Roman Clark said. The blaze is contained, but hasn't been brought under control.
The cause is under investigation, but investigators haven't been able to enter the building. Crews were awaiting the arrival of heavy-duty equipment that would help them remove debris from the dwelling, he said.
The Associated Press contributed to this report.