3 men plead guilty in plot to bomb Ohio highway bridge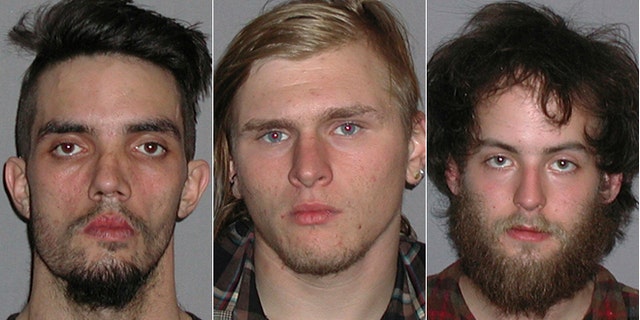 AKRON, Ohio – Three men charged with plotting to bomb a highway bridge in Ohio admitted their role in the scheme Wednesday and now face a sentencing hearing where prosecutors will argue for up to life in prison while defense attorneys will urge leniency.
The FBI has said the public was never in danger even though they say the target was a highway bridge over the Cuyahoga Valley National Park between Cleveland and Akron.
Connor Stevens, 20, of Berea, Brandon Baxter, 20, of Lakewood and Douglas Wright, 26, of Indianapolis, pleaded guilty to all three counts against them Wednesday in Akron before a federal judge.
The fact that the three pleaded guilty along with federal sentencing guidelines mean the defendants will likely receive far less than the 30 years to life the government is requesting.
Defense attorneys have asked for sentences in the range of five years. Sentencing was tentatively scheduled for early November.
The three were charged with conspiring to use a weapon of mass destruction, knowingly attempting to use a weapon of mass destruction and attempting to damage property with explosives.
In July, another defendant, 35-year-old Anthony Hayne of Cleveland, pleaded guilty and agreed to testify for the government.
Plea changes by the trio would leave only 23-year-old Joshua Stafford facing trial. He is undergoing a psychiatric evaluation.
Federal authorities arrested the five in late April, accusing them of trying to detonate what was actually a fake explosive provided by a paid FBI informant.
The suspects are described by the government as self-proclaimed anarchists who acted out of anger against corporate America and the government. But one defense attorney has called the investigation a case of entrapment, with the FBI informant guiding the way.
All but Hayne were scheduled to go on trial in September.
Under the terms of a plea deal, Hayne will have the chance to avoid a life sentence. With the plea and offer of testimony for the prosecution, he could face 15 years to nearly 20 years in prison.
FBI agent Brian Taylor testified in early August that one of the suspects told him the group targeted the bridge in the national park to minimize the impact of the explosion and avoid casualties.
The five men had been active with the Occupy Cleveland group. Organizers of the movement have sought to distance the group from the defendants.