$16G handcycle stolen from disabled veteran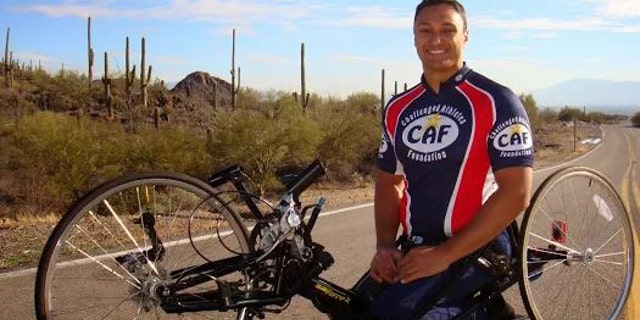 A disabled veteran is asking for help after a handcycle he uses for worldwide competitions was stolen from his home on Saturday.
Gerard Ah-Fook, who lost his right leg and injured part of his left one in a boating accident, told KOLD 13 the handcylce is worth more than $16,000.
Handcycling helped Ah-Fook, who enlisted in the U.S. Navy in 1995, get through a difficult time and it's now become a passion. He cycles worldwide as part of the Paralyzed Veterans of America Racing Team and he's a member of the University of Arizona's handcycling team.
DISABLED VETERAN'S HOMELESS PROJECT GROWS INTO MOVEMENT

"Cycling absolutely had a vital role for me to get back to feeling like I am who I am despite what body parts I have or what I lose physically," Ah-Fook told KOLD 13.
His close friends say they wonder who would be so cruel to steal a specialized bike from a disabled man.
"It's kind of a punch in the gut. A big punch in the gut that this would happen to somebody like that because it's not only physical therapy for him but it's actually mental therapy," Gerard's friend, Aaron Wilson, told KOLD 13.
WWII VETERAN RETURNS JAPANESE FLAG TAKEN FROM FALLEN ENEMY SOLDIER
The three-wheel bike has a white frame and red lettering that says "Top End Force RX."
"I hope you realize that it's not going to benefit anybody, including not yourself," Ah-Fook said. "…I'd like to see it back because I've got some training to do."