11-month-old boy dies after severe weather in North Carolina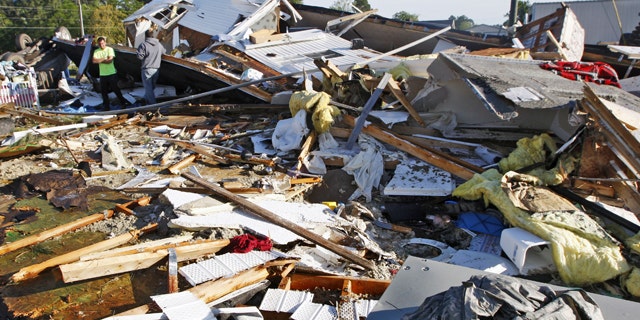 An 11-month-old North Carolina boy died Sunday from injuries that he suffered when weather and tornadoes tore through the state on Friday, his family says.
Gavin Soto's family in Edenton told WAVY that the child was set to turn 1 year old on May 1.
On Sunday, North Carolina Gov. Pat McCrory visited Soto's house – which he said "fell on top of the family" during the severe weather.
"It breaks my heart. It broke my heart to see the house," McCrory said. "And I understand the mother did everything she could to protect the baby."
Passers-by heard a woman trapped inside the home on Friday and freed her along with Soto. Both were taken to area hospitals, WAVY reports.
Residents, meteorologists and emergency officials in eastern North Carolina also were surveying the damage Saturday from multiple tornadoes that damaged more than 200 homes the previous day and sent more than a dozen other people to the emergency room.
Meteorologists said Saturday that tornadoes with winds of more than 111 mph touched down in Pitt and Beaufort counties on Friday, and they were continuing to investigate storm damage.
In North Carolina, Beaufort County Emergency Management Director John Pack said 16 people were taken to the emergency room when the storms passed through around 7:25 p.m. Friday.
Pack said 200 homes were either heavily damaged or destroyed. Pictures on news websites showed residents salvaging items from crushed mobile homes, along with snapped trees and a mangled utility pole in eastern North Carolina.
"You can track the tornado by the damage." Pack said. "It left a lot damage behind in its approximately five to 10 minutes on the ground."
Pack said the storm appeared to be about 300 yards wide and was on the ground for 10 miles. He said the line of damage started in the west-northwest portion of the county and traveled to the northeast.
At one point, Pack said, 8,000 people were without power, but most had been restored by Saturday.
Pack also said two major farming operations in the county sustained damages, but he didn't have further details.
In Halifax County, Antonio Richardson said the roof was blown off his home on Friday afternoon. He said he and a friend took shelter under his mobile home.
"It peeled back my roof, just like you would a banana," Richardson told WRAL-TV in Raleigh.
The Associated Press contributed to this report.