Why tourists are still flocking to paradise to get blown away by planes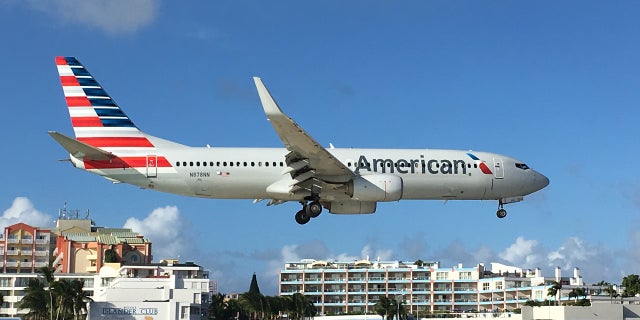 If you enjoy perusing through travel rags, you've likely seen pictures of planes swooping right over a beautiful beach in the Caribbean. Those pictures are shot on Saint Martin-- an island nation split in two, with both French and Dutch-speaking sides.
It's also home to a major airport: Princess Juliana International Airport (SXN) located on the Dutch side, Sint Maarten. For thrill seekers, it's a well-known plane-watching paradise.
In January, travel consultant Rene de Lambert organized an aviation geek gathering on the island. It was a chance for his readers to watch the planes take off and land-- and talk about their shared hobby.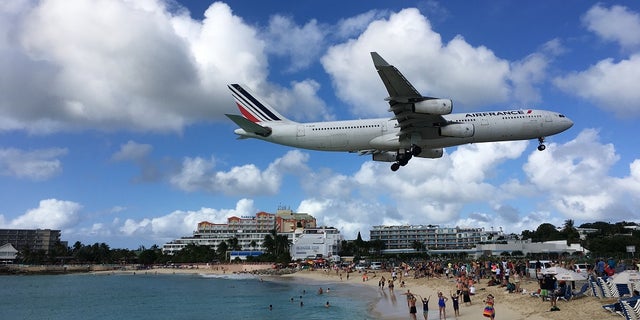 "It's sort of like going to a chocolate factory," De Lambert tells Fox News. "This is Willy Wonka for frequent flyers. Everywhere you look, it's something 'oh, I'd like that too.'... Where else do you get to see people blown into an ocean from a jet?"
CRAZY AIRPLANE LANDINGS YOU HAVE TO SEE TO BELIEVE
Selene Phoenix, a New York-based speech pathologist admits to being obsessed with travel.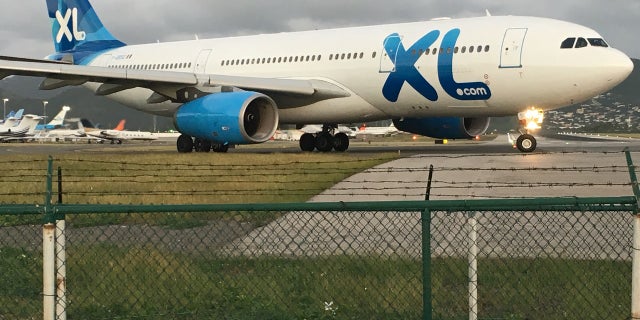 "I have been having the most fantastic time since I landed at Saint Martin. I've never been here before," Phoenix, a Delta million-miler who attended the trip, tells Fox News. "I've heard about it, I've seen pictures of it, but it's just not the same as being in the moment and being part of watching the planes coming in of all different sizes - private planes, propeller planes, jumbo planes, four engine planes, and international flights come through the islands.
"It's just a smorgasburg of aviation joy."
Jamie Larounis, a travel blogger who started the airline site The Forward Cabin, also attended the gathering in Saint Martin.
"This is a must-do for any aviation enthusiasts, travel enthusiasts, and just anybody who wants to take a few minutes out of their day to see aviation..."he explained. "They stop the traffic, and people are getting blown into the water, getting sand blown into their faces as these huge jets take off."
Larounis says he got the biggest thrill from the giant Air France A340 that lands once a day at SXN.
"As soon as that plane takes off, you'll see a tornado of sand and water kick back. It's funny, as you approach the back of the runway, you'll see a sign that says 'Keep Off, Stand Back' – warning about fumes and jet fuel spray."
In 2012, two tourists suffered injuries as they were watching the planes take off. But that hasn't deterred scores of tourists since from flocking to the site. In fact, some wish they could still take in an even bigger blast.
Travel blogger Angelina Aucello laments the fact that she can no longer catch the KLM 747 jumbo jet that used to fly into the island every morning. Now, she says, the Air France A340-300 is the largest jet to land and takeoff from the famous spot.
Can't wait to get to Saint Martin?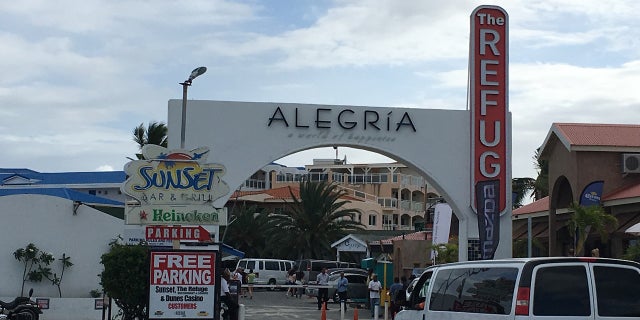 The travel addicts had some great advice.
5 CRAZY CARIBBEAN RESORTS YOU HAVE TO STAY IN BEFORE YOU DIE
"Since Sint Maarten is a year round tourist spot, popular with both those flying in and cruising in, fares aren't always in the reasonable range," says Larounis.
"To save money, there are several low-cost carriers that have multiple flights a week including Spirit to Fort Lauderdale and Jet Blue to Boston and New York. To save money, avoid peak times of the year including Spring Break and holiday weekends and consider buying cheaper fares to other Caribbean Islands or Florida and then purchasing a separate ticket into SXM."
But the frequent traveler wasn't a big fan of the hotels, especially those in close proximity to the airport, which are likely best for plane-spotting.
However, he noted that "there are several hotels within walking distance that would be classified as 2 or 3 star hotels, by U.S. standards."
"The Sonesta resort on the other side of Maho beach is simply amazing, especially for families traveling with kids," says Aucello. To enjoy the facilities all day, it's just $89 per person and kids under 4 are free. Average rates for Sonesta in the spring range from $225 to $333 a night.
FOLLOW US ON FACEBOOK FOR MORE FOX LIFESTYLE NEWS
Being a Caribbean hotspot, Saint Martin isn't exactly cheap regardless of where you stay. Aucello says lunch for two-- without cocktails-- can easily run you over $55.
But if you're a first timer, De Lambert says keeping it simple is probably best.
"What I would recommend is the first time you go, consider a cruise," the travel expert said. "You can experience so many islands. Take a one week or a ten day cruise to see which island you like. The U.S. Virgin Islands are great because they take dollars, it's an American territory and they speak English and take dollars. Barbados and Grand Cayman are fantastic for diving."
But of course, as an aviation geek, he's partial to Saint Martin.