Southwest Airlines helps bridesmaid who forgot dress at home, says it was 'totally worth it'
A bridesmaid celebrating her friend's wedding in Costa Rica got some unexpected help from Southwest Airlines over the weekend.
The woman, who was not identified by name, had reportedly left her bridesmaid's dress back home in Houston upon flying out to Costa Rica, leading a friend to reach out on Twitter and ask the airline for an emergency assist.
PASSENGER CHARGES OBESE SEATMATE $150 AFTER HIS 'COMFORT' IS COMPROMISED
Turns out Southwest was all-too-happy to get the bridesmaid out of this jam.
"@SouthwestAir help!! My friend is in a wedding on Saturday in Costa Rica but she left her bridesmaid dress here in Houston! Can we get her dress on flight #1734 tomorrow???", the bridesmaid's buddy, Taylor Kenney, asked the airline on Thursday, adding the hashtags #WorthATry and #BestCustomerService.
"We like where your head's at," the airline responded a few hours later. "Mind sending us a DM with her info?
The airline then updated its Twitter followers on the progress of the operation, explaining how another friend of the bridesmaid's (a woman named Rachel) dropped off the dress at Hobby airport the next day, followed by photos of the dress en route to Costa Rica.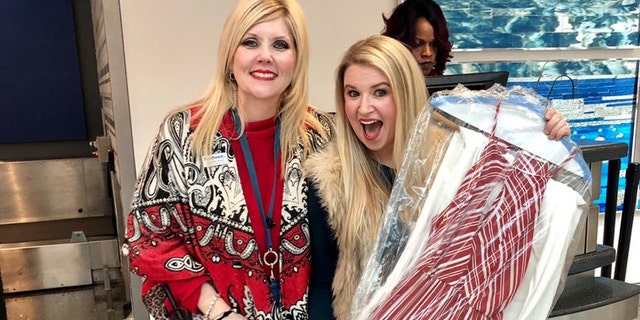 AMERICAN AIRLINES APOLOGIZES FOR KICKING OFF MOM, BABY OVER SKIN CONDITION
Southwest even had its dispatchers add a "special tag" to the flight to make it easier to monitor: #RescueTheDress.
By Friday afternoon, the dress had been reunited with the bridesmaid. Southwest also took the time to answer a follower's question about why the dress at the airport appeared striped, while the one recovered in Costa Rica was white, as noted by USA Today. (Turns out the friend sent over an additional striped dress along with the bridesmaid's one.)
On Sunday, the carrier shared a photo of the bridesmaid standing next to the bride, both in their dresses, along with a caption reading, "Yep. That was totally worth it."
FOLLOW US ON FACEBOOK FOR MORE FOX LIFESTYLE NEWS
"When we saw the call for help on Twitter @southwestair, we knew we had to say yes to the dress," the airline said in a statement obtained by Fox News. "Our social team jumped into action and coordinated with our local Houston Team to meet a friend of the bridesmaid in time to get the dress on a flight to Costa Rica…  This bridesmaid story has a happy ending, and we're thrilled to play a part in making this special day a success. Cheers to the happy couple — and one relieved bridesmaid — from the LUV airline!"