Ryanair tries trolling British Airways for landing at wrong destination, but Twitter isn't on board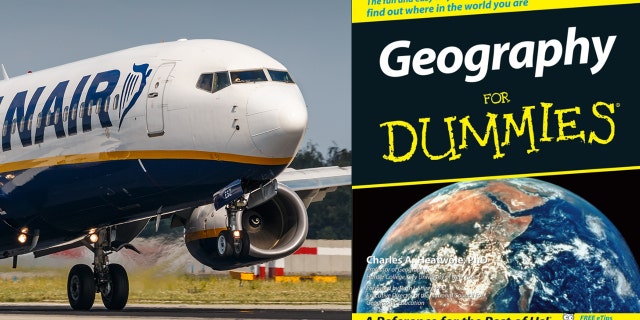 Well, that kinda backfired, didn't it?
Ryanair is taking some flak for attempting to troll British Airways over a Monday's mistaken flight plan, which resulted in a British Airways flight ending up in Scotland rather than its intended destination of Germany.
DELTA, KOREAN AIR APOLOGIZE AFTER TEENS ARE BOOTED FROM FLIGHT, STRANDED IN SOUTH KOREA
Shortly after news of the British Airways blunder made headlines, Ryanair tweeted that it had a "present" for the airline, and included a photo of the "Geography for Dummies" reference book.
The tweet, however, appeared to have the opposite effect than what Ryanair likely intended, as commenters began chastising the low-cost carrier for poking fun of British Airways when it has its own alleged customer service shortcomings — and even made a similar mistake in 2006.
NAKED PASSENGER SPOTTED WANDERING TARMAC AT CHICAGO AIRPORT
Others made reference to an incident from 2006, when a plane operated on behalf of Ryanair accidentally landed at the wrong airstrip in Northern Ireland.
As noted by the BBC, Ryanair had also been voted by travelers to be the "worst" short-haul airline in the U.K. for six straight years.
A representative for Ryanair was not immediately available to comment.
FOLLOW US ON FACEBOOK FOR MORE FOX LIFESTYLE NEWS
British Airways confirmed its 525-mile mistake on Monday, after one of its flights bound for Düsseldorf, Germany, ended up in Edinburgh, Scotland.
"We are working with WDL Aviation, who operated this flight on behalf of British Airways, to establish why the incorrect flight plan was filed," the statement read. "We have apologized to customers for this interruption to their journey and will deal with them all individually."
The flight was redirected to Düsseldorf two-and-a-half hours after the "involuntary stopover in Edinburgh," turning the typical hour-and-ten minute flight into a nearly six-hour journey.
British Airways said the safety of the passengers was never "compromised."
CLICK HERE TO GET THE FOX NEWS APP
Alexandra Deabler contributed to this report.