Qantas flight forced to turn around after passenger starts yelling, locks himself in plane bathroom 'for about an hour'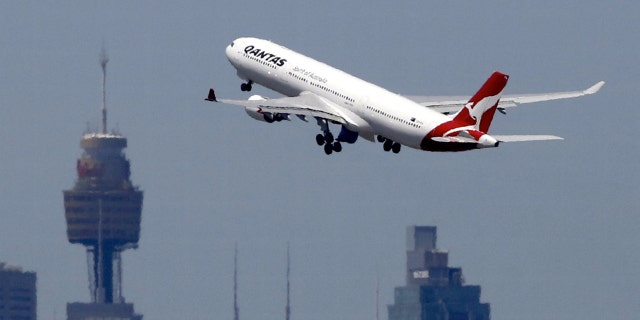 Passengers of a Qantas non-stop flight from Perth to London have praised a pilot's decision to turn around just two hours into the 17-hour journey.
The Boeing 787-9 Dreamliner took off from Perth at 7:03 pm local time and was due to land at 10:54 pm in London after a 17-hour flight.
But the plane returned to Perth Airport after just two hours of flying over a disrupted passenger.
The disruptive passenger was reportedly handcuffed, masked, then removed by police.
Passenger Christine Kohli told the ABC cabin crew had asked passengers for help to try to calm the man.
"They did ask for some assistance from some male passengers, and some passengers went and helped him. I understand he was restrained down the back of the plane."
"I think the air crew were marvelous, they were very in control of the situation, they were calming passengers. They were very, very supportive. They got him down to the back of the plane quite quickly. It was clear he was quite an unwell man."
Clare Hudson, who was also travelling on the flight with her husband and three-month-old baby, told the ABC of the drama.
"He locked himself in the loo for about an hour," she said. "Then when he came out, first of all we heard some shouting, we were about three or four rows in front of where it happened.
"Then he was squaring off against another passenger and sort of shouting in his face.
"It looked like it was going to turn into a brawl. Eventually they managed to calm him down and get him back in his seat. He seemed really wired and agitated.
"One of the cabin crew, one of the ladies, I think was a bit upset. But for us, luckily, we were far enough away that we didn't feel threatened. I think some of the passengers probably would have been quite scared."
The Flight Tracker app showed flight QF9 turning around as far north as Shark Bay.
The flight usually takes 17 hours and 20 minutes.
The controversial service was launched in March as a major milestone for Australian aviation — the first non-stop flight linking Australia and the UK over a whopping 17 hours.
Recent figures from the British Civil Aviation Authority (CAA), published by the UK's The Telegraph, revealed the marathon flights have been taking off with only about 78 per cent of seats filled, prompting Qantas to deny suggestions the route was underperforming.
In a statement to news.com.au last month, a Qantas spokesman said, "Our London-Perth route is performing well — it is definitely exceeding our expectations."
The Perth-London service begins in Melbourne and flies to Perth before it becomes QF9 to London.
The marathon flight was originally scheduled to be about 17 hours but Qantas has already broken speed records twice.
The new route shaves several hours off the journey for those departing Perth.
For travellers coming to Perth from Melbourne, however, the total time saving for the journey to Heathrow is only about one hour.
At the time of the launch, Qantas chief executive Alan Joyce said the airline had challenged Airbus and Boeing to produce an aircraft capable of flying direct to Heathrow and New York from Sydney and Melbourne.
"And we're getting close," he said.
"By the end of this year, we'll know if both aircraft can do it.
"It's not that far away and the opportunity for all of us in that is quite massive."