Footage shows Carnival cruise flooding with water due to issue with fire system
An issue with the Carnival Dream's fire suppression system reportedly caused water to begin flowing down walls and pooling in the hallways of the cruise ship on the evening of May 3.
Around 50 of the ship's staterooms on Deck 9 flooded as a result of the break, Carnival Cruise Line confirmed in a statement. The liner was five days into a week-long voyage around the Western Caribbean at the time of the incident.
Footage from the ship shows water pouring from the ceiling and walls in one of the ship's corridors as passengers and staff look on.
VIKING ANNOUNCES 245-DAY 'ULTIMATE WORLD CRUISE'
Carnival Cruise Line has since stated that the water stemmed from a "fire suppression system" and employees began cleaning "immediately."
"Our onboard teams began cleanup immediately related to this clean water from a fire suppression system," Carnival told Fox News. "We appreciate our guests' understanding and sincerely apologize for this disruption. We also thank our crew members for their quick action and hard work."
The cruise line added that the majority of the affected guests were able to stay in their own staterooms following cleanup.
Cruise guest Marla DeAnn Haase, who shared the above footage, was one of the passengers relocated in the wake of the flooding. She wrote on Facebook that she and family members were moved to the ship's spa, where they slept on yoga mats.
She added that her brother-in-law's cpap machine "caught on fire" just before he fell asleep, allegedly as a result of the transformer being submerged in water for "too long."
RITZ-CARLTON LAUNCHES LUXURY YACHT-STYLE CRUISE
Carnival has confirmed that inconvenienced guests would be refunded for the cruise, and given a 50 percent-off voucher for a future cruise. The company also offered to fly passengers home if they chose to disembark early.
"We appreciate our guests' understanding and sincerely apologize. We also thank our crew members for their quick action and hard work," said Carnival, adding the incident should not delay the ship's subsequent itineraries.
Pictures provided by Carnival on Friday appeared to show the previously soaked corridors cleaned and relatively dry.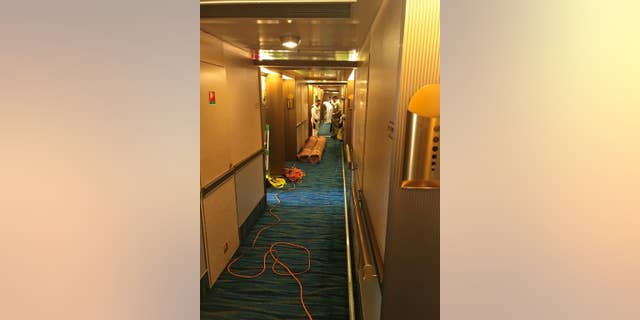 FOLLOW US ON FACEBOOK FOR MORE FOX LIFESTYLE NEWS
The mishap isn't the first headline to plague the cruise line in recent months.
In December 2017, a Florida family became livid after finding a hidden camera in their bedroom aboard the Carnival Fantasy. In January, two female passengers on two separate ships, the Carnival Triumph and Carnival Elation, fell overboard and are presumed dead. And in February, the Carnival Legend ship was forced to dock early in New South Wales to eject 23 passengers following a violent "bloodbath" of a brawl.