Disney Dream Introduces Fine French Dining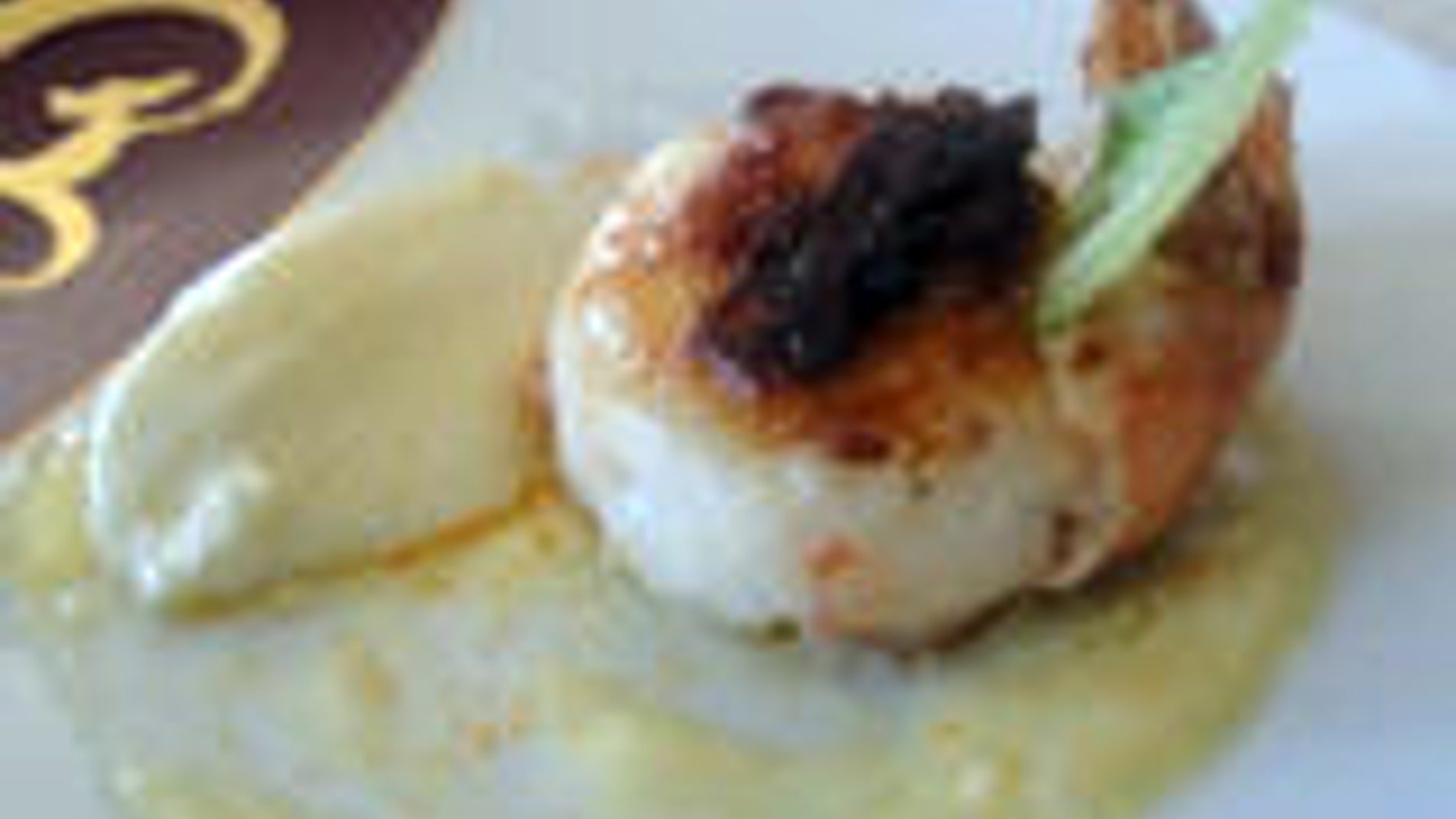 Disney Dream finally arrived last week with a gala ceremony in Port Canaveral in Florida.
Disney Dream (NYSE:DIS) is the first new Disney ship in nearly 12 years, which means the company had plenty of new ideas--including dining options.
Original Disney ships feature a concept called "rotational dining" where each group of diners and the wait staff move together to a different dining venue nightly. The idea is to change the tableau, but not the mixture of people involved.
Disney Dream takes rotational dining to a level and makes each restaurant more thematically entertaining. Wall-mounted flat panel video screens are designed to look like windows and change the scenery during a meal.  In one room aboard the Disney Dream, the screens feature talking characters from the film "Finding Nemo" who strike up personalized conversations with the guests.
All Disney ships also feature the optional dining room "Palos" for diners seeking a taste of Northern Italy. Palos on Disney Dream seats 90 people and charges $20 for either dinner or brunch.
Disney Dream expands cruisers' cuisine choices by offering French-inspired Remy Restaurant with a menu created by two highly-accredited chefs.
Arnaud Lallement, chef du cuisine le numéro un, is the executive chef for Michelin two-star restaurant l'Assiette Champenoise in the Champagne region of France. Numéro deux is Scott Hunnel of the AAA Five Diamond Victoria and Alberts in Orlando. Together, they each contributed half to Remy's menu with each dish identifying the creator.
A Michelin star is considered the highest honor for a chef in the world; the guide started in France and only started awarding stars to restaurants in America in 2000. Three stars is the highest Michelin honor for any chef, but even one Michelin star puts a chef on a very exclusive list.
Like most famous chefs worldwide, Lallement grew up in provincial France in a restaurateur family. His father earned the first Michelin star for l'Assiette Champenoise - but lost it in 1994. When Lallement returned from culinary studies in Vienna in 1996 he re-earned the first Michelin star and received a second one in 2005. At age 29, Lallement was the youngest chef to be recognized by premier Michelin three-star chef Alain Ducasse for a special showcase of provincial French cuisine.
The Remy Experience
Remy's décor is inspired by the animated Disney film Ratatouille, and a rendering of the original kitchen from the animated movie is the most noticeable work of art.
I attended a tasting in Remy aboard Disney Dream last week where both Lallement and Hunnel, along with onboard Executive Chef Patrick Albert, were present to answer our questions. Hunnel described the process of creating the menu, including the challenges of being on a ship at sea with sometimes limited proximity to the all important purveyors, as well as working in a kitchen that prohibits open flames.
The Remy kitchen is divided into two areas: one for the cuisine for each contributing chef. Both sides have 12 cooks nightly under the tutelage of Albert, who was trained in Bordeaux and comes with 11 years of experience in the Michelin two-star restaurant Tulfarris House near Dublin. Lallement and Hunnel plan to visit the ship every few months to review and revise as needed.
Guests who book dinner in Remy are invited to meet the sommelier to taste and select their wines in advance. There are two wine lists: one with 200 vintages from throughout France and Remy's Vault with rare wines from all over the world.
A bottle of 1947 Château Cheval Blanc, considered one of the best vintages in the world, is available for $25,000. The wine holds particular significance to the restaurant because it is depicted in "Ratatouille" as the vintage requested by the food critic. There is also a 1964 Chateau Latour available for $13,000. These are likely the two rarest and most expensive bottles of wine in any cruise ship collection. But don't worry, for those of us with less selective taste, wine by the glass is also available.
Our Remy tasting experience began with the signature champagne cocktail prepared tableside; Taittinger Champagne with a splash of vodka, a sprig of mint, a twist of fresh apricot and a lightly crushed raspberry.
Next, I was given a beautifully executed "langoustine" (a small Norwegian lobster tail) topped with lobster roe and accompanied by Caesar foam. The surprisingly tender flamingo-colored flesh was nicely juxtaposed with its tangy caramelized top. Next I relished a slice of freshly- smoked bison with fennel salad and blood orange.
Remy seats only 80 patrons per night at banquettes and window-side tables for two or four adorned with Frette linen and custom made Christofle silverware and china. The service fee is $75 per person, with the option of wine pairings with each course for an additional $99 per person. There is a private room which seats eight people.
Dinner can include eight or nine tasting portions and dessert, or opt for the full menu which includes wild loup de mer (sea bass) or Australian Wagyu (the breed for Kobe beef).  Gourmands with more traditional French palates might prefer the young pigeon pie with foie gras, spinach and tomato. Dessert options include vanilla-poached pear or a dark chocolate praline with cocoa sherbet. French press coffee and grand crème is the recommended pairing.
After dinner all guests are treated to the appropriate, but coincidentally, named Rémy Martin Louis XIII Rare Cask Cognac served from a Baccarat crystal decanter. Aged in centuries-old casks, this is a treat for cognacs connoisseurs.
For men, the Remy Restaurant dress code includes a jacket, dress pants and shoes (ties are optional). Cocktail dresses, evening dresses, pant suits or dressy skirts and blouses are the options for ladies. Only adults aged 19 or older will be served.

I started writing about stock market investing for Motley Fool in 1995, but previously I worked aboard cruise ships. I co-founded CruiseMates.com, the first cruise travel guide on the Internet in New York City in 1999. CruiseMates, one the Web's top cruise travel guides was acquired by Internet Brands (NASD: INET) in 2006. Once CEO, I am now the editor of CruiseMates – Paul Motter.