Most controversial emotional support animal stories of 2018
Emotional support animals became headline news with the death of Kokito, a French bulldog who died in an overhead bin on a United flight in May. Since the infamous incident, several airlines began rethinking their animal travel policies — though some passengers seemed to not get the memo.
Dog poops on plane
A male customer was left "covered" in dog feces after he sat in poop left behind "everywhere" by a service animal on a flight in November.
"Actual feces and it was all over me. I sat in it and it was on the seat, on the floor, the seat in front. And I was literally in it," Matthew Meehan told WXYZ.
Reps for Delta confirmed to Fox News that the accident happened during a "previous flight with an ill service animal."
According to the Detroit Free Press, Meehan claimed that when he requested assistance from the cabin crew to clean up, they gave him two paper towels and a small bottle of Bombay Sapphire gin — which didn't prove to be much of a help.
Passenger tries to smuggle "emotional support" cat on plane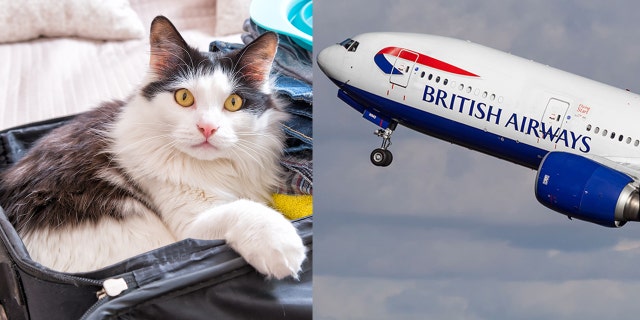 One British Airways customer caused quite a commotion when she failed to smuggle her so-called "emotional support" cat onto a flight in the U.K. last October.
The Daily Record reported that an American passenger got the boot from her Oct. 24 flight from Glasgow to London before the aircraft even took off, as she attempted to conceal her feline companion in her hand luggage.
Once British Airways cabin crew discovered the furry feline, the woman was kicked off the plane, the Record reported.
Woman denied peacock as emotional support animal
United Airlines shot down one traveler's request to bring her emotional support peacock on a flight departing Newark Liberty International Airport in January.
Live and Let Fly reported that even though the unidentified woman claimed that she had a second ticket for the peacock, the airline denied her request.
A spokesperson for United told Fox News that the traveler(s) with the peacock were told they would not be able to bring it on board.
"This animal did not meet guidelines for a number of reasons, including its weight and size. We explained this to the customers on three separate occasions before they arrived at the airport," said United in a statement.
'Emotional support' squirrel gets woman removed from flight
Cindy Torok was removed from a Frontier Airlines flight in October after the airline refused to let her fly with her emotional support squirrel, Daisy.
Torok, who argued that she had informed the airline that she would be traveling with an emotional support animal, did not inform Frontier that the animal was a squirrel — an animal not in compliance with the airline's emotional support animal policy.
Torok refused to deplane, involving the police who reportedly told her, "'Either you walk off the plane or I'm going to arrest you for trespassing, and we will take that squirrel,'" Torok told Fox 8 of the Frontier staff on the flight. "I said, 'You're not taking my squirrel. Sorry, you're not. I refuse. You will not take my baby from me.'"
The entire plane deboarded, and police then removed Torok from the flight, which was delayed two hours due to the incident.
Emotional support dog injures child on plane
A child was injured by an emotional support dog on a Southwest Airlines flight from Phoenix to Portland, Ore., in February, fueling the debate over regulations regarding animals on airplanes.
The dog's teeth scraped the child's forehead after the passenger approached the animal during the boarding process, according to a spokesperson for Southwest.
The child received minor injuries and was examined by an EMT before continuing on the flight, which departed 20 minutes behind schedule. The dog and its owner did not stay on the plane and instead remained in Phoenix, the spokesperson said.
Student flushes emotional support hamster down the toilet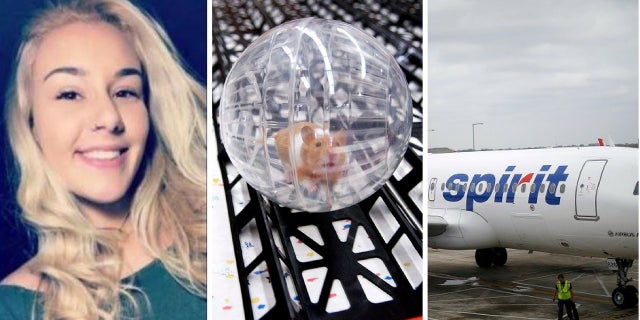 Perhaps the most bizarre emotional support animal story of the year was an incident from February, when a student claims a Spirit Airline employee told her to flush her pet hamster down the toilet because it was not allowed on the flight.
When Belen Aldecosea, 21, arrived at the Maryland airport, she said the airline refused to let Pebbles on the plane. Aldecosea said she did not have many options since her family was in Florida and her friends were hours away. The student claimed a Spirit employee suggested she either flush Pebbles down the toilet or let the animal free.
Spirit Airlines spokesman Derek Dombrowski told Fox News the airline denied the woman was ever instructed to flush her pet down the toilet.
"After researching this incident, we can say confidently that at no point did any of our agents suggest this guest (or any other for that matter) should flush or otherwise injure an animal. It is incredibly disheartening to hear this guest reportedly decided to end her own pet's life," Dombrowski told Fox News.