British Airways passenger fails to smuggle 'emotional support' cat onto plane
One British Airways customer caused quite a commotion when she failed to smuggle her so-called "emotional support" cat onto a recent flight in the U.K.
The Daily Record reported that an American passenger got the boot from her Oct. 24 flight from Glasgow, Scotland to London before the aircraft even took off, as she attempted to conceal her feline companion in her hand luggage.
According to the outlet, her attempt was thwarted because she was seated near an emergency exit and was told her bag had to be placed in an overhead bin.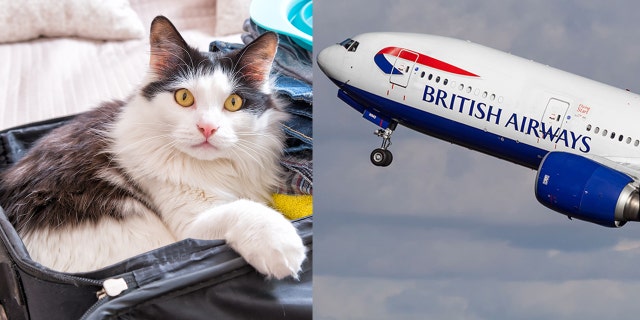 POLICE IDENTIFY RYANAIR PASSENGER WHO USED RACIST LANGUAGE AGAINST SEATMATE
Once British Airways cabin crew discovered the furry feline, the woman was kicked off the plane, the Record reported.
Representatives for the carrier returned Fox News' request for comment with the following statement:
"Cats cannot travel in the cabin but recognized assistance dogs are always very welcome and travel completely free of charge alongside their owners on board. Other animals will need to travel in the hold but will be just as comfortable in a carefully controlled environment," a rep said.
"The transportation of pets is handled by our sister company, IAG Cargo. They have decades of experience flying animals and will look after our customers' pets as if they are their own," they added.
FOLLOW US ON FACEBOOK FOR MORE FOX LIFESTYLE NEWS
Emotional support animals on planes has proven to be one of the most controversial travel topics of the year, ever since an emotional support peacock named Dexter and his owner were rejected from boarding a United Airlines flight in January. A few months later, a French bulldog died midflight after being accidentally placed into an overhead bin by a United Airlines flight attendant for the duration of the trip.
Various carriers have been tightening the leash on their respective rules regarding the transportation of both companion and service animals in the high skies.