World's First 3D Porn Film Opens in Hong Kong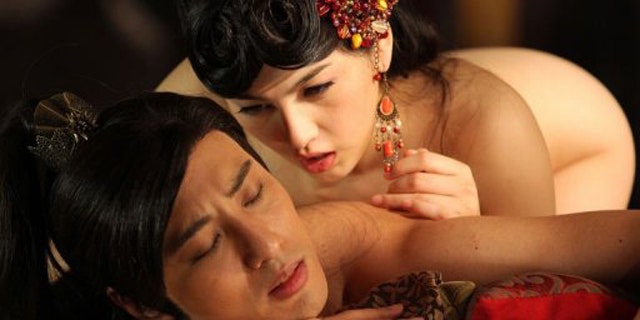 HONG KONG – Moviegoers flocked to see what was billed as the world's first 3D porn film as it opened to packed cinemas across Hong Kong on Thursday, with some screenings selling out completely.
Loosely based on a piece of classical Chinese erotic literature, the $3.2 million Cantonese-language movie "3-D Sex and Zen: Extreme Ecstasy" features orgies, swinging and some very graphic sex scenes.
Curious moviegoers from all walks of life -- office workers, retirees and students -- formed long queues outside cinemas in the southern Chinese city, eager to catch an eyeful of steamy 3D action.
Many in the crowd were women and were not shy about watching the movie.
"I'm not normally much of a moviegoer, but this one is just too good to miss," a 32-year-old woman said as she waited outside a cinema. "I'd like to see what 3D porn is like on the big screen."
Set in the Ming dynasty, the film chronicles the story of a young man who, after being introduced to the erotic world of an aristocrat, realizes his ex-wife is the love of his life. The film stars Japanese adult actresses Yukiko Suo and Saori Hara.
The movie will open in Taiwan on Friday and has sparked strong interest in many Asian markets, including Japan and South Korea, as well as Europe and the United States, according to the producer.
Travel operators were reportedly organizing moviegoing excursions to Hong Kong and Taiwan for tourists from mainland China, where strict censorship rules prevent any screening of the film.
But the South China Morning Post's film critic Paul Fonoroff was left rather underwhelmed by the romp, describing it in a review as over-long, one-dimensional and short on real passion.
"Perhaps the most ironic element is the script's ostensible moral that sincere love is more satisfying than wanton promiscuity, a concept which, if truly put into practice, would cause ticket sales to go flaccid," he wrote.
The movie is a remake of the 1991 film "Sex and Zen," which is still the highest-grossing Hong Kong adult movie of all time.
"3-D Sex and Zen: Extreme Ecstasy" opened ahead of reported plans by other filmmakers to produce similar 3D porn movies.
Italian director Tinto Brass has announced he is to produce a 3D remake of his 1979 erotic film Caligula, while Hustler plans to release a pornographic spoof of 3D science fiction film Avatar, the top-grossing movie of all time.