Top paid app in Google Play store pulled after being revealed as apparent fake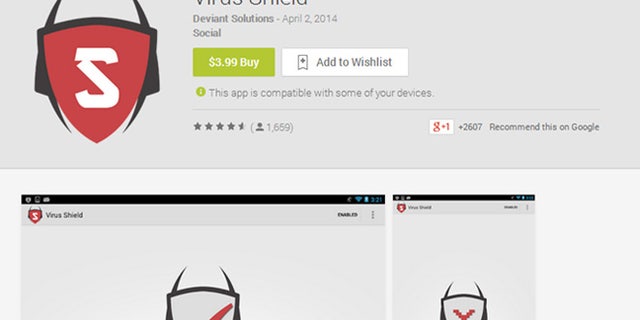 A $4 security program that was the #1 selling app in Google's Play Store has been yanked after it was revealed to be an apparent fake.
In its description, Deviant Solutions' Virus Shield app promised users that it would "prevent harmful apps from being installed on your device," in addition to scanning files in real time, protecting your personal information and having a low impact on phone battery life.
Those who downloaded the app – at least 10,000 people – were asked to press their finger on an image of a shield with an X, which would then change to an image of a shield with a check mark.
After that, what happens?
Apparently nothing.
Android Police, a security website that reports on the Google operating system, says it analyzed the coding used to create the app and confirmed that it is "completely devoid of any security benefit."
Days ago, Virus Shield was the #1 selling paid app on the Google Play store with a 4.7 overall rating, but it was pulled from store early Tuesday morning.
Android Police reported that a search of the developer's e-mail reveals very little information. The site adds that "InceptionDeviant," a banned account on Sythe.org -- a virtual marketplace where people can sell items found inside video games – is accused of trying to scam users.
"It's somewhat disheartening that an app so obviously fake could rise to the top, especially considering that it's paid…" Android Police wrote.
Google has not responded to a request for comment from FoxNews.com.