The fight for the fourth screen: Who will Internet-enable your car?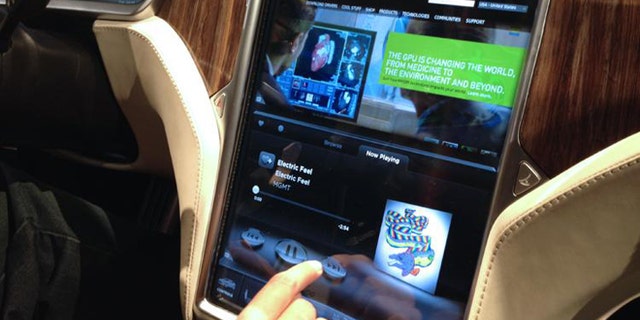 For every screen, there's a dominant player.
Cable companies (still) rule TVs. Microsoft owns the desktop. Android and Apple are the reigning smart phones.
But no one yet owns the fourth screen: the one in the car.
At the New York International Auto Show this week, car makers continue to trot out different breeds of connected-car services on in-dash LCDs. Buyers want these services -- a combination of navigation, entertainment, and communications -- in new vehicles, and a raft of companies are racing to provided them in this fall's 2013 models.
But what services you get will depend on how automakers implement them. They are taking three very different approaches.
One of the first mass-market offerings was Ford's Microsoft-backed Sync, which has morphed into the full-blown MyFord Touch in-dash system. These designs rely on a Bluetooth-connected cell phone to reach Web-based online services and deliver features like turn-by-turn directions and read-aloud text messages. To this, Ford has added Applink, which allows drivers to use specific smart phone apps, such as Pandora and Openbeak (for Twitter).
The genius of this approach is that the car doesn't require expensive additional hardware. The smarts are primarily in the phone. And any time you change your preferences, such as adding a Mozart channel or clicking off Nicki Minaj, the new settings are automatically transferred to the car system. New apps, however, are managed by Ford. So, thank goodness, you can't just download Angry Birds or Youtube to the dash.
An alternative is to use smart phones to connect to the Internet, but then allow outside companies to collect apps like streaming radio stations and social networking feeds under a single program, which is then played through the car. The advantage here is that they don't have to manage and approve each new app; that's left up to companies like Livio and Aha. It's also a way for automakers to quickly add connected car.
Acura announced at the auto show that it would offer Aha in a new stereo system for its 2013 RLX model. Earlier this year, Honda and Subaru announced they, too, had plans to incorporate Aha, which streams scores of online stations and information from the likes of TripAdvisor to the dashboard.
Other carmakers are taking yet a third approach. GM's OnStar is the most well-known of those, and the company is gradually expanding from the direct human operator model to Web-coordinated services like Family Link, which allows customers to locate a vehicle through any Web-enabled device.
GM's Cadillac brand is taking further steps and supplementing OnStar with CUE, Cadillac User Experience, an in-dash system with a touch-screen, voice control, and navigation. CUE can a control standard features, such as regulating heating and AC, but it will also allow some apps from a connected smart phone. The first, and so far only app, is Pandora. But you can expect Cadillac to add more.
Mercedes-Benz, for example, is already onto its second-generation system, called mbrace2. It relies primarily on a car-embedded cell connection, but can also run smart-phone based apps, such as special versions of Facebook, Yelp, and Google search.
The main advantage of the embedded approach like that of GM and Mercedes is that because the car is always connected, owners can perform neat tricks like remotely locking or unlocking a vehicle, starting it, or checking on its location. The downside is that these designs are expensive and often limited to high-end luxury brands (Hyundai is an exception with its Bluelink system). Monthly service charges are also required.
Conversely, the smart phone-only approach of Ford and others doesn't require additional fees. You're already paying for your cell phone service. But you don't get features like remote start.
One benefit of basing connected-car services on a smart phone is rarely discussed, but could prove decisive in the battle for the fourth screen: The ability to make all services consistent no matter what vehicle you're driving.
Aha, for example, provides this option on some cars. If you have the app on your phone, it will connect and work with any compatible vehicle -- the new Acura, Honda, or Subaru models, for example. And because your preferences are on your phone and saved online in the cloud, your favorite stations will automatically show up on the car's screen whenever you pair your phone with the car, even in a compatible rental car.
This is a great advantage for families who have multiple drivers for one vehicle. Mom gets in the car and Adele starts playing. For Dad it's U2, and for junior it's the Black Keys. Although with more states banning teens from using cell phones in cars in any way, shape, or form, junior may not be able to access any of these services.
Which connected car approach will prevail -- cell phone-based, embedded systems, or a combination of the two -- is far from clear at this early stage. What is clear is that car buyers will face a lot more high-tech choices in showrooms this fall.