Rara.com: Cheering for Online Music This Christmas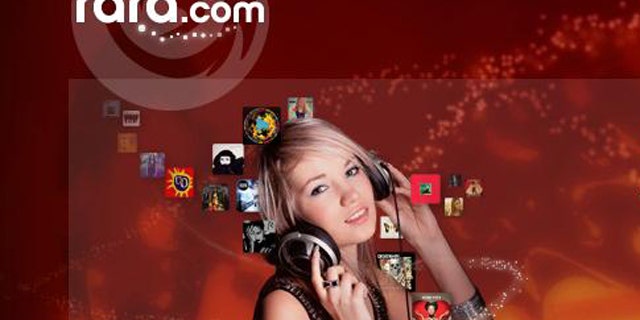 Will this be the first Christmas no one gives you a CD? No remastered Pink Floyd box set, no Tom Petty live anthology? It may be an online music service-only yuletide.
Today, a new subscription service joins the ranks of nearly a dozen online offerings currently available. Rara.com starts out at just 99 cents a month for on-demand access to roughly 10 million songs. After the three month honeymoon is over, the regular subscription is $4.99 a month. Rara.com joins services such as MOG, Rdio, Slacker, Spotify, Napster, Rhapsody, Pandora, and Sony Unlimited.
Is there room for another music service? Rara.com thinks so.
Tim Hadley, the director of the U.K.-based company says that the goal of Rara.com is to make getting online music easier for the people who have yet to try a subscription service. That includes offering curated playlists and music suggestions (like having a DJ) and signing up popular artists to suggest new music to subscribers.
Bolstering Rara.com's opinion, there's a growing sentiment that two types of online music services can co-exist.
The first is a free, radio-like service such as Pandora. It can play any commercially available music -- including the likes of Metallica, which refuses to offer digital tracks -- thanks to a streaming licensing deal in the U.S. But there are restrictions on the number of replays and there are usually ads.
The second type of service is like Rara.com, which is analogous to a personal record collection. You have to pay to play music, but you can select any track you want, whenever you want. These services generally rely on licensing music directly from the record labels, so in theory there's a lot of music they can't get -- such as Led Zeppelin hits -- but the total number of tracks they offer is greater than what many free services offer.
So is this good or bad for the music business? It depends on your perspective.
It's certainly not good for CD sales. Brick and mortar record stores have disappeared, and the meager offering of top 40 discs in Best Buy is paltry. You've got to go online to order a CD you want. Even so, album sales are expected to be brisk for the holidays, accounting for most of the music business' annual disc sales.
The trend is away from albums in favor of individual tracks, however. That means CDs are as dead as prog rock concept albums and disco. We're more tuned in to downloading a Black Keys or Foster the People song than a dozen tracks from one artist.
Consequently, big record labels continue to struggle. Warner Music, the label behind the Red Hot Chili Peppers, recently posted $103 million loss for its latest quarter -- more than double its losses of a year ago. There were various reasons for the decline, but one of the primary causes was the move from CDs to digital track sales and subscription services.
On the other hand, some independent record labels say things may be looking up on the digital side. According to Nielsen and Billboard's Mid-Year Music Industry Report, digital track sales were up 11 percent this year, reversing a six-year decline. Tom Silverman, founder and CEO of Tommy Boy Entertainment (and a board member of non-profit rights management group SoundExchange), believes that music may be in turnaround mode, thanks in part to the recommendations of online services like Pandora, which make it easy to buy songs as well.
Whether this trend will continue or not remains to be seen. Rara.com, for example, does not offer a buy button at all. It's strictly a subscription service.
What is certain is that the days when a subscription music service meant you got a record in the mail every month are long gone. We're headed toward a digital only, in-the-cloud-not-on-the-shelf world of music. That may be more convenient for a lot of people, but it has one downside: Rdio and MOG gift cards just don't fill out a stocking like a CD does.
Follow John R. Quain on Twitter @jqontech or find more tech coverage at J-Q.com.