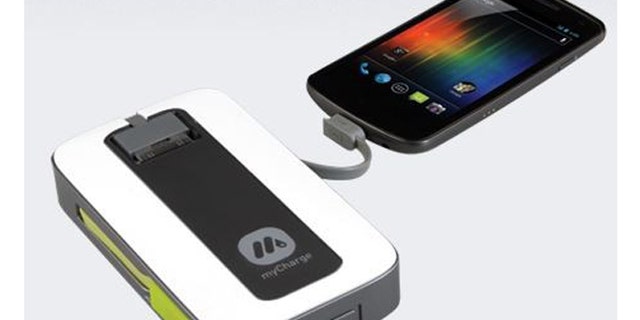 NEWYou can now listen to Fox News articles!
Cell phones have obviously never heard of the Engerizer Bunny. At least that's how it feels when you're traveling and crawling on your knees for outlets at the airport, or duking it out for adapters in the car.
Fortunately, you can avoid such aggravation by toting along a backup battery.
There are dozens of rechargeable backup batteries on the market, primarily aimed at smart phone and tablet owners. Batteries capable of delivering a single full charge to a phone start at around $25, with models able to revive multiple devices priced above $100.
Most of these backup devices use lithium ion batteries, which tend to retain their charge better than other technologies. So if you charge it up now, the backup battery should still be able to recharge your cell phone weeks from now.
Determining just how much of a battery boost you'll get out of these devices remains something of a black art. Much depends on how you're using your phone or tablet. Is the screen at full brightness, running on Wi-Fi or using Bluetooth? Do you have apps churning in the background that are constantly searching for a connection?
And then there are the ratings. Most manufacturers will prominently display a mAh or milliamp hour rating. The mAh number enumerates how long it will take to discharge the battery given a particular load. So a 1,500 mAh backup battery, for example, can power a gadget drawing 150 milliamps for 10 hours. In other words, the more mAh, the better.
There are dozens of rechargeable backup batteries on the market.
Depending on your summer travel plans, there are a variety of backup options.
myCharge Peak 6000, $100
If there's one thing I detest, it's the rat's nest of dongles, doodads, and adapters that end up sinking to the bottom of my briefcase. So the Peak 6000 is a godsend. Its three connectors—micro USB, Apple 30-pin adapter, and USB—all remain tethered to the device and tuck neatly back into their own slots.
Even the Peak 6000's AC plug for charging folds back into the deck-of-cards sized device. Press a button on the top, and a rather pleasant feminine voice informs you that the "battery is near full." What could be easier? As the name suggests, the Peak 6000 has a 6000 mAh battery, which should deliver many hours of talk time (as many as three charges for an iPhone 4S) but only about a 50 percent charge on the newest iPad.
ioGear GearPower GMP10K, $80
One of Murphy's many updated laws dictates that when one kid's tablet runs out of juice, so does their sibling's smart phone. To avoid subsequent squabbling over who gets the backup charger, there's the GearPower GMP10K lithium ion battery, which has enough power to capably recharge a smart phone and a tablet simultaneously. Not only can it handle two devices at once (one port for phones or MP3 players, a second for more power-hungry iPads), with its 11,000 mAh rating, the GMP10K should be able to charge an iPhone 5 more than 6 times before running dry.
The GearPower manages to pack this power into a chassis that's slightly smaller than the Peak 6000. However, weight is still a factor (mom will not countenance this 0.65-pound gadget in her handbag), and you have to pack a separate AC adapter to recharge it. The backup battery also doesn't come with any adapters or cables. So when your iPad or Android phone runs out of juice, you better have brought the cables along with you.
Powerocks MagicStick, $50
Even a charger can be sexy. Well, at least stylish. Powerocks' 2,600 mAh MagicStick will only deliver about a charge and a half to many smart phones, but it does it with flair. The lipstick-sized gadget comes in a slew of colors that would make Max Factor proud. It's convenient and fits in a pocket or purse, which pretty much guarantees you'll have it around when you need it.
Energizer 180 Watt Cup Inverter, $45
The company behind the indefatigable bunny doesn't just make disposable batteries, but also offers lots of charging options for smart phone owners. The Cup Inverter doesn't have a built-in battery; it's strictly designed for cars, plugging into a cigarette lighter socket and fitting neatly into an empty cup holder. It boasts five - yes, five - ports for charging phones and tablets. There are four USB outlets, and one standard three-prong outlet for plugging in a laptop (that's the inverter part). It's perfect for keeping a mobile office running or simply maintaining the peace in a gadget crazy family.