Pope challenges Justin Bieber for Twitter supremacy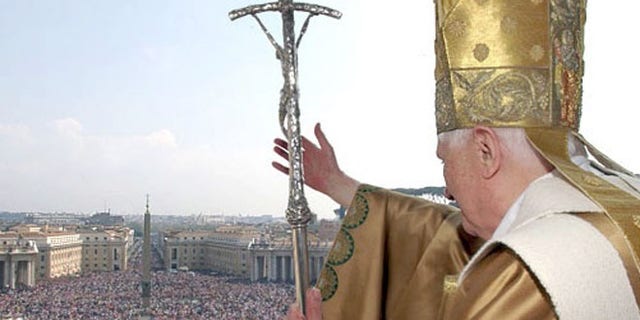 Pope Benedict XVI has joined the ranks of the Twitter faithful as @pontifex (Latin lives on). People can follow him and tweet questions relating to faith and belief using the hashtag #AskPontifex. (Many of the early ones have been quite snarky.) Vatican staff will collect questions for the pope to answer when he begins tweeting in a live event on Dec. 12.
The pope, at age 85, is not the first octogenarian to use Twitter, but he's already the most influential. In his first two days he has gained more than 450,000 followers. And he is likely to wield enormous influence among Twitter users of all ages, Jeff Katz, a partner with Twitter analytics firm Twitalyzer, told TechNewsDaily.
Twitalyzer measures what it calls impact or influence by taking into account not only followers, but how often the person is mentioned by others on Twitter, as well as frequency of tweets.
"Even if he's not frequently tweeting, he'll likely wind up being one of the top five most influential people on Twitter," Katz said after computing the pope's impact score for his first day.
Twitalyzer built a list for TechNewsDaily of the top 10 most influential octogenarians on Twitter, based on Slate's "80 Over 80" list. Since Twitter's announcement, Pope Benedict XVI ranks as the most influential octogenarian, followed by Playboy founder Hugh Hefner and comic book legend Stan Lee.
Twitalyzer also compiled a top 5 list for TechNewsDaily, which is dominated by pop stars. The pope currently ranks number 13, according to Twitalyzer's impact calculations.
If the pope were to reach the highest ranks of Twitter influencers, he would be in the company of President Barack Obama and rock stars like Justin Bieber and Britney Spears.
Copyright 2012 TechNewsDaily, a TechMediaNetwork company. All rights reserved. This material may not be published, broadcast, rewritten or redistributed.