How to chat with an NFL star during the Super Bowl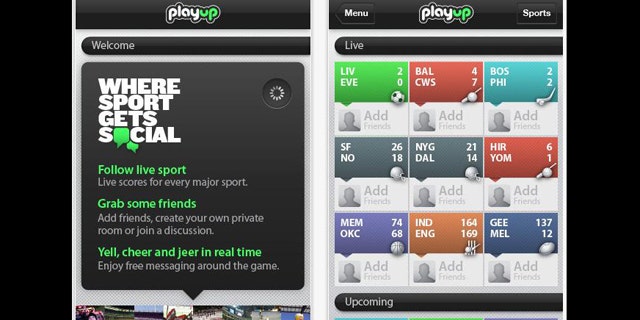 Just in time for the Super Bowl, U.S. military personnel can use a free app to talk about the big game with their family and friends -- and a few football stars themselves.
First revealed at the Army-Navy game in December, PlayUp's social networking app is dedicated to sports fans and gamers, and the company is keen to give back to the military. PlayUp lets you create a room, take it private or go public, and chat live.
Warfighters can create their own private virtual family room to share with their family back at home or join an open room and participate in the action there. It's a great way to follow a favorite team when cut off from TV during training.
PlayUp also gives sports stars the chance to connect with fans during training or a live sporting event.
Australian cricket star Steve Waugh recently messaged directly with fans on Day 1 of a match between Australia and India. Swimming fans will have the opportunity to message and interact with Olympic gold medalist Ian Thorpe while he gears up for the London Olympics.
And FoxNews.com has learned that Steve Johnson of the Buffalo Bills and Steven Jackson of the Saint Louis Rams will be chatting in their own rooms throughout the Super Bowl and will be bouncing in to users' rooms to discuss the game directly with them.
The virtual family rooms have live feeds within a game so users can keep up instantaneously. Those plugging in for the Super Bowl will find live scores updated every two seconds as well as every down, who has the ball and on what yard line -- and there's no need to hit refresh.
Warfighters will have a choice of more than 30,000 live games to follow while being able to discuss them with friends on their mobile devices in real time.
In addition to every NFL and college football game, they can discuss play-by-play for every NHL, NBA, MLB and MLS game. College basketball and a range of other leagues and sports from Premier League to tennis and cricket from around the world are also available.
For soccer fans, there are more than 30 leagues available from Argentina and England to France and the United States.