Google's $35 Chromecast gizmo connects every TV in your house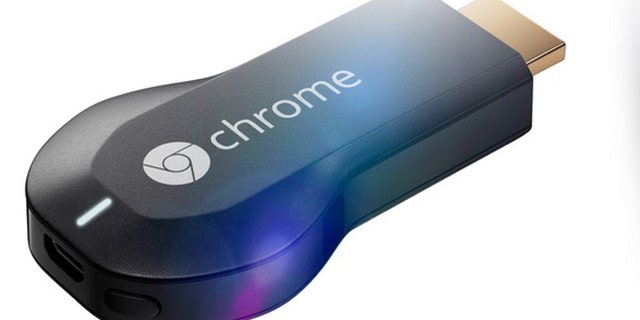 Over 200 billion videos are watched online every single month, accounting for much of the Internet traffic in North America -- but it's mainly happening on computing devices, not televisions.
Google wants to change all that.
A new gadget called Chromecast from the Internet giant is meant to simply and easily send videos from cellphones and laptops to those high-definition flat screens in living rooms.
The device, essentially a thumb drive with a big head on one end, plugs into a spare HDMI port your television. It runs a simplified version of Chrome OS and hides out of site behind your television, explained Google's Mario Queiroz.
"All you have to do is plug it into any HDMI input on your TV, power through HDMI, connect to your home Wi-Fi, and you're ready to kick back and watch," he told people at a Wednesday event in San Francisco. At the same event, the company announced a new version of the Nexus 7 tablet and an update to the Android software.
A new cast button in the YouTube app or the Chrome browser on a phone or laptop or computer will then send a signal to the cloud and transmit high resolution down to the television. The user can then control the television playback from the original device. Google's Cast technology is available to other developers as well, Queiroz said.
The device is available for $35 on Google Play Amazon.com and at BestBuy.com. It will be in stores starting July 28.
"With the launch of Chromecast and the new Nexus 7 tablet, it's even more effortless to enjoy content you care about—whether it's video, music, movies, games—wherever you are, across your devices," explained Sundar Pichai, who oversees the company's Android and Chrome operating systems.