Anthony Weiner's latest sexcapade prompts a question: 'What's Formspring?'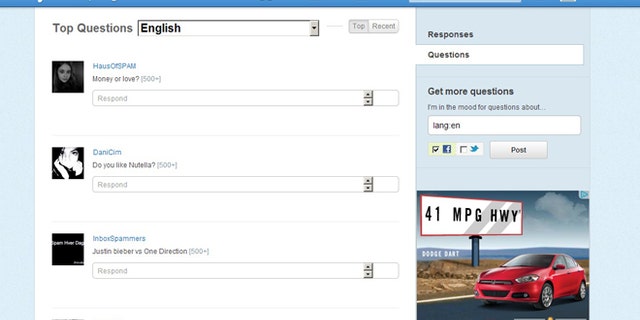 NEWYou can now listen to Fox News articles!
Anthony Weiner found himself caught in another sexting scandal after details of lewd photos and conversations between himself and a 23-year-old woman turned up on the website Formspring.me.
Wait, where, you may be asking?
Founded in 2006 and shuttered (sort of) last year, Formspring quickly racked up tens of millions of users with an unusual question-and-answer website format. Users post a question for the whole world to see ("Do you like Nutella?" or "At what age do you think you will be married?") to wait for the responses to roll in. Anonymity was allowed and even encouraged -- and there's the problem.
[pullquote]
"This was catnip for teens and tweens, who joined en masse, and the site at one point counted 30 million registered users," wrote Will Oremus on Slate.
"The questions end up being mostly sexual," a 21-year-old UCLA undergrad told Fortune in 2010. When he joined the site, the second question Jacob Gardner was asked was, "Top or bottom?"
"I knew this would get sexual in a second," Gardner replied before answering.
Formspring was a far different beast from Twitter, the site of Weiner's first sexting scandal. Twitter is designed to facilitate interactions between specific people, notably photo sharing. The anonymous nature of Formspring facilitated sexual content, not necessarily conversations between friends.
"Anonymity was a really popular feature," Cap Watkins, a former Formspring employee, recently wrote. "On the other hand, we saw a lot of bad and abusive content come through that channel … a fact that we wound up being pretty infamous for."
Site traffic has dwindled in the past year from 600,000 users per month to fewer than 200,000, according to Compete.com.
Formspring founder Ade Olonoh left the site in April of this year, after announcing plans to close Formspring a few weeks earlier on a Wordpress blog, which has since been deleted.
"While we've had great success in reaching a broad audience, it's been challenging to sustain the resources needed to keep the lights on," Olonoh wrote at the time.
He did not respond to FoxNews.com requests for more information.
On May 13, the site announced on Twitter that it was live again under new management.
Formspring.me remains live.