Exciting new medical 'silver bullets' will save military lives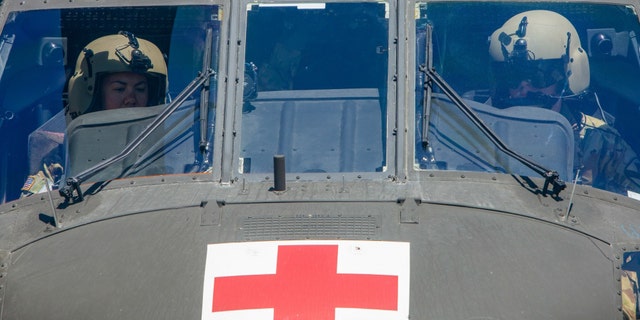 Revolutionary breakthroughs to stop lethal threats and save military lives will now reach the hands of American warriors far faster.
The leading cause of death on the battlefield, the number one infectious disease threat to troops and invisible weapons that can kill within minutes.
All three are serious threats to the U.S. military, all three potentially fatal, and now all three have promising "silver bullets" to defeat them.
In the future, a freeze-dried French powder could save countless lives from gunshot wounds that would have been lost.
Something that could be mistaken for a vaping device will save lives from the horrible deaths inflicted by nerve agent weapons.
SAPPHIRE GEM-BASED 'TRANSPARENT' ARMOR PROTECTS SOLDIERS FROM SNIPERS
By simply swallowing a groundbreaking disease-defeater contained in an ordinary looking pill, troops could be spared a horrible disease that can plague someone for many years.
Thanks to a new law and a dedicated team-up between the Department of Defense and FDA, there is good reason to hope that life-saving solutions like these will now reach military personnel at an unprecedented rate.
U.S. troops and veterans certainly deserve the best possible medical products and care whether deployed or at home. Quick access to innovation that can save the lives of men and women who put their lives on the line should be a priority.
The very same advances that will save lives on the battlefield have huge potential to save civilian lives too. It could save a child in a car accident who is heavily bleeding in small town, USA, save commuters who were attacked by a terrorist with a nerve agent in the subway in NYC, save church group volunteers on a humanitarian mission in South America from contracting malaria after a hurricane … to name just a few examples.
Here are three exciting new solutions to defeat deadly threats that have already received the jet engine boost from this new law and DoD/FDA team-up.
French and Freeze Dried – Saving Lives from Bullets and Bombs
If you've seen freeze-dried coffee, then it is a similar concept … except this is blood with the water freeze-dried out to produce dry plasma and clotting protein-rich, stable, genuinely life-saving powder. A dose of this new amazing innovation can literally mean the difference between life and death.
BEE-SIZED BOTS SET TO DOMINATE FUTURE BATTLES FOR CITIES
Why would anyone want to freeze-dry blood?
Since WWII, the quest for the life saving holy grail of freeze-dried plasma (FDP) has been ultimately unsuccessful - until now.
One of the first exciting developments in this new era is the French FDP project (aka Centre de Transfusion Sanguine des Armées' Pathogen-Reduced Leukocyte-Depleted Freeze-Dried Plasma).
Hemorrhage (aka "bleeding out") is the leading cause of preventable deaths among combat trauma casualties.
Bullets, shrapnel, bombs and other things flying around the battlespace can cause a wound where it is difficult to control and stop the bleeding.
AUSA 2018 IN PICTURES: THE BIGGEST LAND WARFARE SHOWCASE IN YEARS
Plasma is used to help manage and stop both hemorrhaging and coagulopathy. The proteins in the plasma help to clot blood. Up until now, forces were often stuck with frozen plasma – or nothing.
When forces are deployed to remote areas, it is unlikely they will have a Maytag fridge handy to store plasma properly.
When moving around the battlespace, forces are frequently limited to what they carry with them for emergency medical care. The most common alternative for today's warriors is lugging frozen blood – with a thawing device and a way to keep it cold - around the battlefield to have on hand in an emergency.
Freeze-dried plasma is lightweight, doesn't need a thawing device and can be kept at room temperature.
A medic can simply reach inside his or her backpack, reconstitute the French FDP and it is immediately available for transfusion for the wounded. This can buy crucial time to evacuate the wounded to state-of-the-art military facilities for further care.
'TERMINATOR' TANKS WITH 'INVISIBILITY' CLOAKING WILL FIGHT FUTURE WARS
With the "Emergency Use Authorization," military combat wounds from firearms, bullets, shrapnel and explosive devices can now receive the remarkable game-changer in many circumstances.
The product will most likely continue to evolve, but the U.S. military has already had excellent results from using the FDP in real battlefield conditions. The Army beginning testing in 2012 and the Marine Corps more recently. MARSOC first used FDP in Africa about a year ago and reported strong performance.
Hopefully, French FDP will be approved and available to widely ship to ground forces as soon as early next year.
PODCAST: SAN BERNADINO TERRORIST CHRISTMAS PARTY ATTACK WITH SWAT: EXCLUSIVE FIRSTHAND ACCOUNT INSIDE THE BRAVE SWAT RESPONSE
Antidotes in Pen-like Devices – Stopping Nerve Agent Attack Deaths
With chemical weapon attacks surfacing in Syria and even England, nerve agents have been in the news a lot recently. Protecting U.S. troops from chemical weapons is also an important priority.
Sarin, VX, Soman and Tabun are all known chemical warfare nerve agent weapons. Even in a very tiny amount, nerve agents are extremely deadly. These horrible, toxic weapons can be odorless and colorless, providing very little warning of the attack before symptoms start to manifest. The likelihood of survival, the side effects and speed with which symptoms appear varies based on factors like type of agent, exposure method and exposure duration.
NEW US NUCLEAR BOMBS AND FUTURISTIC STEALTH AIRCRAFT TO PROVIDE MIND-BOGGLING MILITARY MIGHT
Within seconds, you can lose consciousness and begin convulsions. Death can occur within minutes.
This means that a victim of nerve agent attack may only have a window of mere minutes to begin treatment to survive.
Another exciting advance in this pipeline is the atropine autoinjector device – it can be pulled out of a pocket or backpack and within seconds save the life of someone exposed to chemical nerve agents.
With this new autoinjector, troops simply need to take it out when they have been exposed. Atropine is one of the most commonly used drugs for nerve agent poisoning. Loaded with an atropine dose, the user simply applies it to a thigh muscle and it will rapidly inject. Simple, fast, potentially life-saving treatment within moments.
PODCAST: JOIN IN ON GREEN BERET INDIANA JONES STYLE JUNGLE ADVENTURES
Small Pill to Stop #1 Infectious Disease Threat
Malaria is the number one infectious disease threat to U.S. military personnel deployed overseas.
It has remained number one in spite of the many clever steps the military has taken to protect warfighters - from advanced netting through to drugs.
ARMY SETS SIGHTS ON BIGGER, BOLDER, HARDER HITTING BULLETS
Now malaria may have met its match. Another exciting innovation rapidly making its way from lab into the hands of warriors is Arakoda (aka Tafenoquine).
A Walter Reed Army Institute of Research discovery, this is the first drug to prevent malaria in nearly two decades.
Transmitted by an infected mosquito's bite, malaria can be horrible to endure, persist for years - and one variant can even become lethal if not treated quickly.
Arakoda is highly effective at preventing malaria, seems to perform significantly better than all others and is much easier to take, requiring far fewer doses.
Solutions for PTSD and beyond
So what's next? The military has been working on a wide range of projects from advances for alleviating PTSD, solving chronic pain, regenerating muscle and skin, treating burns, and much more.
Life-saving "biological products" may be an initial priority for this smart, new approach to getting effective solutions in the hands of warfighters as rapidly as possible, but there is definitely a commitment to use the law's expanded opportunities to give lots of different types of solutions tackling a wide array of challenges a well-deserved push.