Digital ways to deal with Black Friday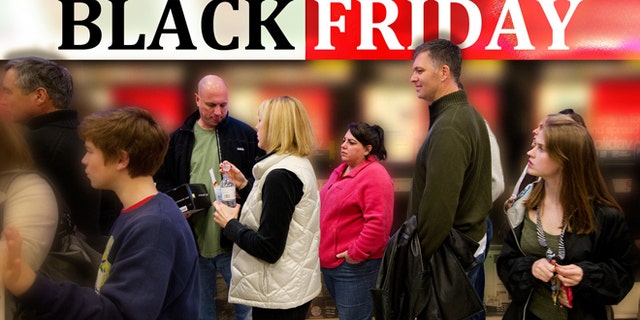 Black Friday sure can make you blue.
Crowds of aggressive shoppers elbowing each other for a few flat-screen TV specials, bait-and-switch deals (that aren't deals at all), and checkout lines that make airport security queues and pat-downs seem like a walk in the park. Fortunately, there's a cornucopia of digital tools to help you mellow out during the start of the silly shopping season.
The first option is to stay in your PJs and do your shopping online before the turkey's even the oven. Many retailers are offering specials online now, ahead of this Friday's shopping tsunami. Target, for example, is already running a "Beat the Rush" sale now. So if you are planning to visit a particular store, check the company's Web site first to see if what you want is already on sale. Moreover, many will offer Black Friday sales online with free shipping, saving you gas money and the questionable joys of parking-lot jousting.
Of course, there's nothing like actually putting your hands on an item in a store. So if you are steeled for the in-store frenzies -- or enjoy it and consider it a sport -- make sure you plan ahead by going online.
uReport: Black Friday Frenzy -- send us your photos!
"First, look at store sites and social networking pages for new hours," Trae Bodge, a spokesperson for RetailMeNot.com who follows shopping trends, told FoxNews.com. Many stores are opening on Thanksgiving, for example. Others are holding out for more civilized Friday morning openings.
'Be prepared to back out when you find the flat screen is sold out.'
"Also go to Google Shopping to compare prices first, and then be prepared to back out when you find the flat screen is sold out," Bodge said. Your smart shopping mantra should be, "Be prepared to fail." Too often Bodge says we can't find exactly what we want and then make impulse buys, which usually turn out not to be deals at all.
In addition, don't turn your nose up at coupons. You no longer have to spend hours clipping items from the Sunday paper. Plenty of stores let you download coupons to your phone, or you can go to a site that aggregates coupons from multiple outlets. RetailMeNot collects hundreds of coupons directly from some stores, like Kohl's, as well as receiving links from users to scores of other deals. Also reliable is Coupons.com, which allows you to print out discounts (a dedicated program is required to do this, so that you don't print hundreds of coupons) as well as offering digital coupons from some stores. RetailMeNot's latest iPhone app will also alert you to sales at nearby stores while you wander through the mall, no advanced research required.
Naturally, before you head to the mall make sure you or a companion has a smart phone. It's an invaluable tool for comparing prices, checking product reviews, and even finding your way in some stores.
The most thorough price comparison apps include ShopSavvy, PriceGrabber, and Redlaser. The general idea is to use a phone's camera to scan an item's barcode and then receive a list of prices for the same item at other retailers, on- and off-line. In many cases, you can also buy the item directly on your phone with a few clicks--and then dump your shopping cart and go home. The apps are available for most smart phones, but the programs often don't cover local mom-and-pop stores. Nevertheless, it's excellent way to learn the price range for gifts you're not familiar with.
When Amazon launched its own mobile shopping app last year, Price Check, brick-and-mortar stores started pulling their hair out over the showrooming trend (wherein you use a physical store to try out a product, but then by it online). This season, retailers are fighting back, and you can benefit.
Several stores have beefed up their own shopping apps. Best Buy, Home Depot, Staples, and Target all have separate mobile apps. Expect to see some special offers that you can use in stores from these folks. Furthermore, some programs, like Walmart's app, include maps of particular stores to help you find the iPad and cashmere sweater sales (assuming you can get a signal inside the store).
Other stores are taking an aggressive price-matching strategy, promising to meet or beat legitimate prices from other stores, even those captured online on smart phone's screen. Fry's, Home Depot, Lowe's, and JCPenney, for example, offer price matching even on Black Friday. There are exclusions--of course. JCPenney, for example, will only match prices of local retailers (not online) and the offer has to be in print. Other stores, such as Best Buy offer price matching....but not during the Thanksgiving/Black Friday weekend. Check the store's policy before leaving home.
If you want to sleep in and spend the weekend watching football, there's always Cyber Monday, the day after the Thanksgiving weekend when bored workers use time in the office to shop online. Many e-commerce sites are pushing sales on the Monday. The biggest come-on and most popular, according to RetailMeNot's Bodge, is free shipping. Indeed, if you order early enough, many online outlets offer free ground shipping as a matter of course.
Procrastinators like me should also consider stores that can get the product to your doorstep the quickest. According to a test conducted last holiday season by mystery shoppers at StellaService, the five fastest shippers were Zappos, Newegg, HPShopping, Amazon, and the Gap. Orders from all of them were received in less than 3 days. This is all well and good, but genuine procrastinators want to know what the absolute cutoff is for ordering presents and getting them in time for Christmas. That day this year is Monday, December 17. After that, you'll have to go out and, you guessed it, wrestle with other procrastinators shopping in the real world.
Follow John R. Quain on Twitter @jqontech or find more tech coverage at J-Q.com.