Cool site of the day: Baby's first status update?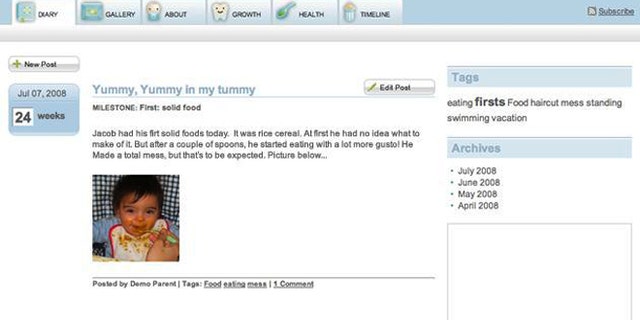 Nowadays, many kids are online even before they're out of the womb. From ultrasounds to baby-bump pics, your unborn child might already have a substantial Web presence.
But Facebook, Flickr and Tumblr aren't necessarily the best places for your child to be. First of all, the privacy settings on those sites aren't built to protect small children, and second of all, there's a much better way to share your baby's first years of life.
It's called Kidmondo. Kidmondo gives new parents and caregivers a secure, personalized website for tracking your child's development. Update photos, diaries, growth charts and even an interactive timeline.
All journals are kept secure, and you have unprecedented control over who is allowed to see what, and how updates are sent to your friends and family. Eventually, you can even pay Kidmondo to publish your baby's journal into a full-color book.
Kim Komando hosts the nation's largest talk radio show about consumer electronics, computers and the Internet. Get the podcast or find the station nearest you at www.komando.com/listen. Subscribe to Kim's free e-mail newsletters at www.komando.com/newsletters.
Copyright 1995-2012, WestStar TalkRadio Network. All rights reserved.